Salman Khan says he is a virgin at Koffee with Karan
www.mangaloretoday.com
New Delhi, Dec 2, 2013: The opening episode of celebrity chat show 'Koffee With Karan` on December 1 featured Bollywood's most eligible bachelor Salman Khan as the guest.

The 'Dabangg' actor, who has been linked to many-a-women in the past, was in a tell-all mood while talking to host Karan Johar. Karan, on his part, ensured that he makes Salman to reveal the lesser known details of his romantic liaisons.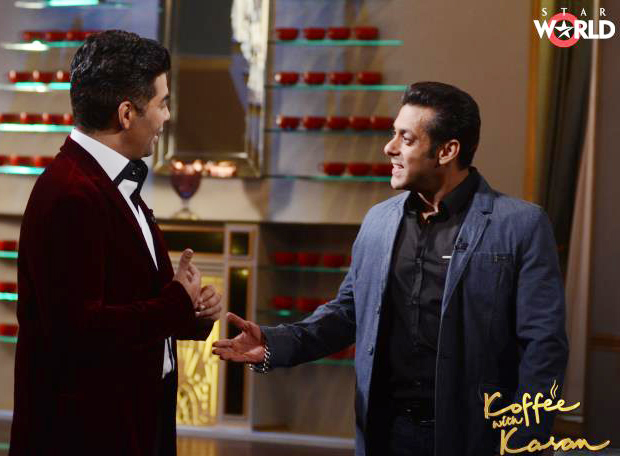 Now, it is quite obvious these days for anyone involved in a series of affairs to lose his virginity, but, when it comes to Salman Khan, it is a different case altogether. During the talk on his multiple relationships, Salman revealed that he is still a virgin. This news left Karan Johar visibly astonished. "I am a virgin", were the words of Salman. He also added, "I`m going to save myself for the one that I get married to."

Salman also said that the questions pertaining to marriage don't interest him anymore. "There was a time that I really did want to get married, and then it just didn`t work out. It always comes so close, but then people have got cold feet," he said. He also admitted that he was on the verge of getting married to Sangeeta Bijlani. The cards were printed and the preparations were on. But the relationship abruptly ended as Sangeeta caught him cheating on her with another woman.

Soon after saying this, Salman went on to reveal about his new habit of lying. "I am not the correct person to be with, the way I am right now in this phase of my life," he says.

On being asked about his exes, he revealed the strategy he uses for facing his former girlfriends in real life. "Some I ignore totally. I try and run away from them. I don`t face them. I`m sure by that it would mean you cannot look me in the eye and all. But that`s not the point. The point is now you`re somewhere else. You have your own life. I don`t want that somewhere in somebody else`s mind that thought about ex-boyfriend you know," said the 47-year-old bachelor.

However, he added that Sangeeta is now like family to him.