Poonam Pandey upset over leaked 'Poonam Ki Raat' house party video
www.mangaloretoday.com
New Delhi, Dec 4, 2013 (India Today) : 'When will Poonam Pandey quit' is a question most ask, and some 'attempt' to. The queen of sleaze and a poor man's Pamela Anderson (just saying), is at it again.

In what is allegedly a leaked video of a house party tagged '#PoonamKiRaat', Poonam is not only wearing the bare minimum but is also seen dancing provocatively enough while her friends (holding the camera) can be heard shouting 'encouraging' words. Like she needs any.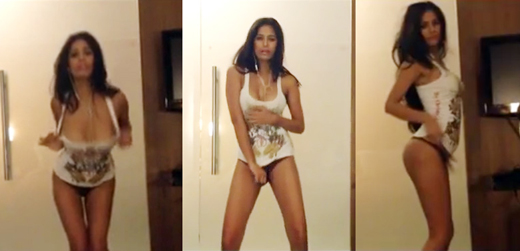 While we won't go there yet, we will, however, point out out that the actress is apparently 'upset'. She sure made it seem that way on Twitter, after tweeting, "Tweethearts such acts are Really hurting. ..Like every one even I Enjoy my personal space... But dont like anyone Crossing the boundaries".

But not before reminding those who may have missed the clip, "Dear Tweethearts I really appreciate ur so much Love for me ... but such acts Leaking my Personal Videos really upsets me".

And, of course, (drum roll), her disappoinment over the leaked video raging like a forest fire on the internet, "Really upset with my own MMS Leaked.... dono how come my personal party video went viral on whtsapp!".

What's interesting to note is how she's been constantly retweeting the announcement of the video by a fan group called @FanClubPoonam, not before first writing it herself, "Really strange my MMS is viral on whtsapp n #PoonamKiRaat is Trending ... did u see that Clip?".

See the video for yourself, and don't say we didn't warn you.