World Alzheimer's Day Programme in Mangaluru on Sept 25
Mangalore Today News Network
Mangaluru, September 24, 2023: The People's Association for Geriatrics Empowerment (PAGE), in its commitment to raising awareness about Alzheimer's disease, has dedicated the entire month of September 2023 as 'Alzheimer's Month' in Mangalore. In a significant development, PAGE announced the much-anticipated "World Alzheimer's Day Programme" during a Press Meet held at the Mangalore Press Club.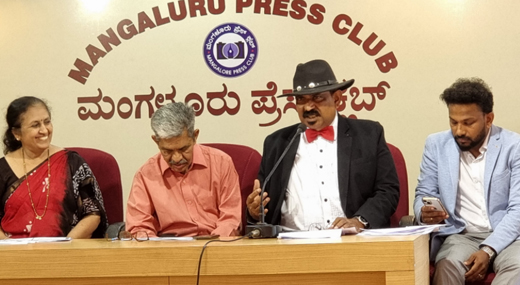 Scheduled to take place at the illustrious Kudmul Ranga Rao Town Hall on Monday, September 25, 2023, starting at 3 PM, the "World Alzheimer's Day Programme" extends a warm invitation to the general public, with a special focus on elderly individuals, persons with dementia, and devoted family caregivers.

This unique program serves as a platform for members of the Caregivers Forum to come together and provide assurance that families and institutions grappling with dementia are not alone. Dr. Prabha Adhikari, one of PAGE's esteemed Trustees, emphasized the significance of this gathering. Furthermore, attendees will receive vital information about the forthcoming launch of the 'Mangalore Chapter' of Dementia India Alliance (DIA), which is slated for October 14, 2023. All interested members of the public are encouraged to attend this informative event.

The global prevalence of dementia is a pressing concern, with over 55 million individuals currently affected, a number predicted to rise to 139 million by 2050. In India, it is estimated that approximately 7 million people grapple with dementia. Recognizing the gravity of this issue, experts have outlined preventive measures and remedies. These include early diagnosis and the management of risk factors such as diabetes, hypertension, smoking, excessive alcohol consumption, depression, and obesity. Encouragingly, engaging in regular exercise, fostering social connections, and participating in brain-stimulating activities have been identified as protective factors.

Treatment options for dementia encompass addressing underlying conditions such as diabetes, hypertension, heart disease, small vessel strokes, Parkinson's disease, depression, and sleep disorders. Multifaceted interventions that incorporate medication, exercise, dietary adjustments, and brain-stimulating activities have shown promise in promoting the active and independent well-being of individuals living with dementia.

The "World Alzheimer's Day Programme" will be inaugurated by DK District In-Charge Minister Dinesh Gundu Rao and will witness the presence of distinguished figures, including U T Khadar, Speaker Karnataka Legislative Assembly; Vedavyas Kamath MLA; Dr. Bharath Shetty MLA; Mullai Muhilan M.P, IAS DC DK Dist; Anupam Agarwal IPS, City Commissioner of Police, and other key participants committed to the cause.

PAGE's proactive efforts in promoting awareness and support for Alzheimer's disease and dementia are commendable. The upcoming "World Alzheimer's Day Programme" promises to be an enlightening and unifying event, providing hope and solidarity to the community. As the global dementia population continues to grow, initiatives like this one are essential in ensuring a brighter future for all those affected by this challenging condition. PAGE's unwavering dedication to this cause serves as a beacon of inspiration, and the event's success is anticipated with great optimism.
Write Comment
|

E-Mail
|

Facebook
|
Twitter
|

Print