Two key service roads at Kottara closed, traffic chaos galore
Mangalore Today News Network
Mangaluru, May 19, 2016: Two vital service roads meant to facilitate outward and inward movement of vehicles from Mangaluru have remained closed for 'reconstruction' for a couple of months, but the authorities concerned appear to be unconscious to the problems faced by road users in negotiating the congested stretches.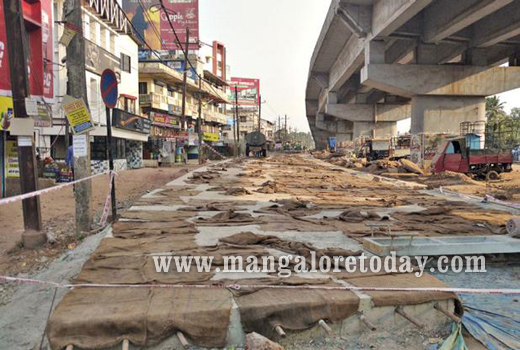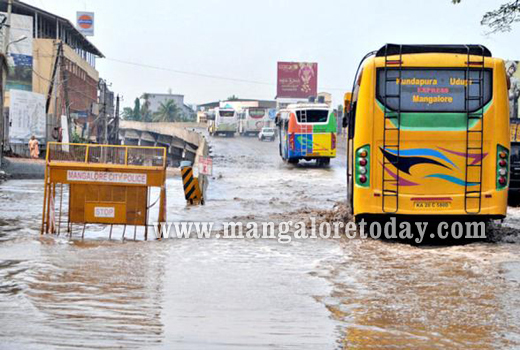 For more than two months since the NHAI, National Highways Authority of India started work on the reconstruction of the service road by the side of the Kottara flyover, through which vehicles from the city move towards Udupi on National Highway 66. After closure of the road, vehicles are being diverted on the incoming carriageway, this allows only one lane each for outgoing and incoming traffic. It is now common for vehicles to pile up till Kulur during peak hours.

On the other hand, NHAI also closed the service road on the side of the Kulur flyover about a month ago, again for reconstruction. Consequently, the vehicles moving towards Kavoor from the Udupi side are made to move on the outgoing carriageway and take a left turn towards Kavoor beneath the flyover. This has meant pile-up of outgoing traffic till Bangra Kulur.

The drivers of express buses that ply between Mangaluru and Udupi, lamented the inordinate delay in completion of works, saying a lot of time is wasted as drivers attempt to safely negotiate the narrow stretches on which the vehicles are being diverted.

NHAI claims 'Not responsible' : NHAI authorities claim that the fault lies with the State government agencies involved. Project Director told media that work on Kottara service road has been limping because of the delay in shifting electricity poles by the MESCOM, Mangalore Electricity Supply Company .

With Mescom indifferent to NHAI's request, the authority has concreted the road on the available width. He said 250 metres of the 400-metre-long stretch has been concreted, adding that the work would be completed by the end of the month.

But, senior Mescom officials said it was not the company's duty to shift the poles. The official said they had already prepared the estimate and accorded sanction to NHAI to shift the poles about two months ago.

Regarding the Kulur service road, NHAI said it needed space to construct a storm water drain, which was not being facilitated by the MCC, Mangaluru City Corporation. He said for now, the road would be relaid with bitumen, and concrete would follow later.
Write Comment
|

E-Mail
|

Facebook
|
Twitter
|

Print