My Friday night fever: Prof. Narendra Nayak
mangaloretoday.com
Mangaluru, Aug12, 2020: Last Friday I had overdone my walking both in terms of speed as well as as duration and had a bit of muscular pain and went to sleep with it. At midnight my better half was feeling my forehead once in a while and kept on saying you have fever and at around 2am I too felt so and checked my temperature- it was near 102* F! So, the immediate reaction- it may be 'that'! Though I am under the impression that I went through 'that' once and do not want to go through it again, may be one could get it for the second time!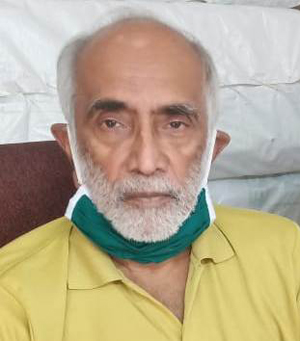 So, as soon as it was a decent time I called my physician who said if my this preliminary diagnosis is right, the previous one should be wrong! But he said nothing can be said now, wait for two days. In the meanwhile quarantine yourselves. When I asked him whether we should get ourselves tested for covid19 his terse reply was wait for two days do not simply think of wasting your money and overloading the facilities within a day! He also told me to get a pulse oximeter and keep checking oxygen saturation!

So, I promptly got one from my cousin! The fever continued on and chills too. Since one our neighbors had come down with malaria(or that is what was said on her hospital bill) I suspected that too so when the fever was on got my blood collected and along with that the usual blood counts! Within two hours got the report that all were normal! But the fever progressed on to Saturday night fever and along with that my anxiety! However on Sunday morning it turned out that it was a week day fever not to be carried to a Sunday! I was afebrile!

I did not sleep a wink the whole of Sunday night! Monday morning I had come to the conclusion that the fever was not 'that'!On comparing notes I found that quite a few people had exactly the same symptoms and recovered in three days! One of my employees told me that her husband, son and nephew had fever. Her husband had got fever on Friday night same as me and had not slept a wink on Sunday night! He had gone to his family doctor and had been put on paracetamol and antibiotics! One more from our circle Arun Shenoy had exactly the same complaints!

On the positive side I lost 1.5 kgs in three days and back to normal! When I called my cousin today and told her I am returning her pulse oximeter her retort was "don't, keep it" when I asked her why she replied that it had been kept idle after her husband passed away and she got reminded of it when covid19 elicited interest in them. She pulled it out and started checking with that and kept asking her physician so many questions that he told her to put it back in the box and give it to the next deserving person she meets!

Write Comment
|

E-Mail
|

Facebook
|
Twitter
|

Print