Modi-call thrills RSS old timers, sparks speculation
Mangalore Today News Network
Mangaluru, April 26, 2020: If you were to try making a personal call to Prime Minister Narendra Modi at 9:00 a.m. these days, you are likely to hear a busy tone. For that is the time when the PM has dedicated himself to calling hundreds of RSS veterans day after day.

According to news reports, Modi has made it a point to begin his day with a string of phone calls, each lasting about three-five minutes to party old timers.

Modi is said to have called up nearly 100 such seniors already. The recipients of the calls are mostly above 80 years of age. He normally asks about their health and seeks feedback from them on present lockdown and the situation on the ground. "These people have seen a lot in their lives and their feedback is invaluable for the PM", an official is quoted as having said.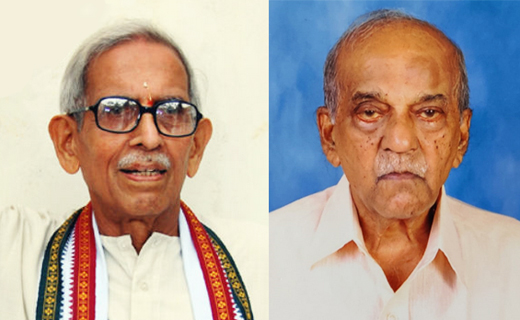 Ram Bhat and Somashekar Bhat
In coastal Karnataka two persons who have received Modi's calls are former Udupi municipality president Somashekar Bhat and former Puttur MLA Ram Bhat.

An elated Somashekar Bhat said: "I am very glad that PM Modi called and spoke to me. I shared the experience of meeting him at the Jaipur session."

Modi had called the landline of Urimajalu Ram Bhat at his residence in Kombettu in Puttur taluk on Wednesday evening. The 2-minute-and-odd chat with the PM has left Bhat pleasantly surprised and happy. Ram Bhat had served as MLA twice from Puttur Assembly constituency. Disgruntled with the way the party was shaping up when in power in the state, he quit the BJP 10 years ago and floated Swabhimani Vedike. "It is a huge prize for me that he (Modi) has remembered me and spoke to me," said Bhat.

Interestingly Modi's phone calls have sparked a lot of amused speculation. Some are finding it ironic that Modi should be so concerned about the veterans, especially as he is known to be an aloof and impersonal character.

His earlier concept of forming a Marg Darshak Mandal within BJP is widely seen as a dumping ground for grumpy old men and potential trouble makers like L. K. Advani and Murli Manohar Joshi. Others see this as Modi's attempt to reconnect with his roots, disguised as expressing concern for the old veterans who are considered to be more at risk during Covid-19 pandemic.

Or is it a clueless prime minister overwhelmed by crisis who is trying to pep himself up by banking on the wisdom of the elderly? The days ahead could indeed prove revealing.
Write Comment
|

E-Mail
|

Facebook
|
Twitter
|

Print