Mangalore: Ananthakrishna to head mangalore institute of oncology
Mangalore Today News Network
Mangalore, 18 May, 2017:Former Karnataka Bank Chairman Ananthakrishna will take charge as the Honorary President of Mangalore Institute of Oncology (MIO) during its 5th Anniversary Celebration on Saturday, 20th May, 2017. This was announced by Dr. Suresh Rao, Managing Director of MIO during a press conference held last evening at Hotel Goldfinch.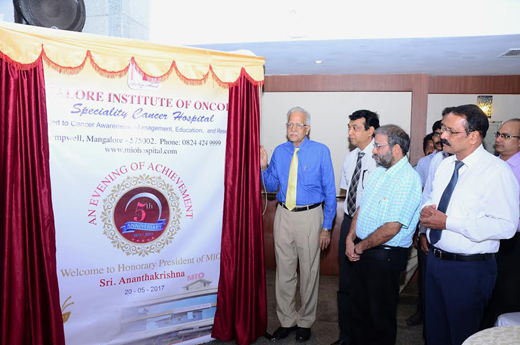 Addressing the media persons present on the occasion, Dr Suresh Rao said MIO as a growing institution would benefit from the guidance of the veteran banker who is an experienced administrator. "In the medical arena accountability and transparency are of paramount importance. Hence in order to ensure good corporate governance practices, we decided to invite Mr. Ananthakrishna to lead us as our Honorary President. We are grateful to him for accepting our invitation," he said.
Dignitaries like state food and civil supplies minister U. T. Khadar, Lok Sabha MP Nalin Kumar Kateel, MLC and Chief Whip Ivan D'souza, Kankanady corporator Praveen Chandra Alva and veteran cardiologist Dr. A. V. Shetty will be attending the 5th anniversary celebration, he said.

In his address, Ananthakrishna said he was glad to accept his new position at MIO as he will be able to utilize his time productively post retirement. "Compliance is rare in today's corporate sector. I am very happy that MIO has expressed its commitment to compliance, be it statutory requirements, transparency issues or ethical practices," he said, "Compliance indicates good corporate governance and shows that you are law abiding and following ethical practices. It infuses confidence in patients."
Ananthakrishna further pointed out that incidences of cancer are on the rise. "At present it is estimated that India has about 18 lakh cancer sufferers and this figure is expected to double by 2020. The patient doctor ratio is very meager at 2000:1. Hence there is a need for more facilities to effectively combat the disease, which is considered to be the emperor of maladies," he said.

Speaking about MIO's completion of five years Dr. Suresh Rao said theirs was an exclusive cancer hospital. "Earlier advanced treatment facilities for cancer were not available in this region. One had to go to either Bangalore of Mumbai. Hence we decided to set up this facility which would be beneficial to cancer patients of this region," he said. He added that MIO has treated over 18,000 cancer patients in the last five years and has recorded 10,000 survivors. After Kidwai Memorial Institute of Oncology, MIO is the second largest cancer specialty hospital in Karnataka, he said.
He also said MIO has tried to be a pioneer in the field by always opting to going in for the latest technologies. "We were the first to install Linear Accelerator in India. We have also recently installed Pet Scan which gives accurate diagnosis," he said.
To a question about on which are the common types of cancer found in the region, Dr. Suresh Rao said in urban segment the breast cancer and colon cancer figures statistically match the global trend, while in the rural segment cervical cancer and head & neck cancer top the list. "There is also a growing trend in esophageal cancer, which is becoming common in Mangalore. Alcohol consumption and smoking are the main cause for this," he said. "We have also observed that the average age of emergence of the disease is getting lesser. Here we see increasing trend in 35-45 years age group, which is about 10 years lesser than in western societies."
To another question, Dr. Srinath Baliga, senior research biologist, said their studies have shown that social and cultural practices like inbreeding in certain communities and high consumption of red meat are possible risk factors for occurrence of cancer in the regional population.
Dr. Jalaluddin Akbar, Onco Surgeon and Dr. Sannath Hegde, Medical Oncologist were present on the occasion.
Write Comment
|

E-Mail
|

Facebook
|
Twitter
|

Print