US releases pics of deflated 'spy' balloon, says approach to China will stay calm
Mangalore Today News Network
Washington, Feb 08, 2023: Three days after US fighter jet F-22 Raptor fired a missile and downed a suspected spy balloon from China, the Navy divers began pulling out the balloon debris from the depth of the Atlantic Ocean floor.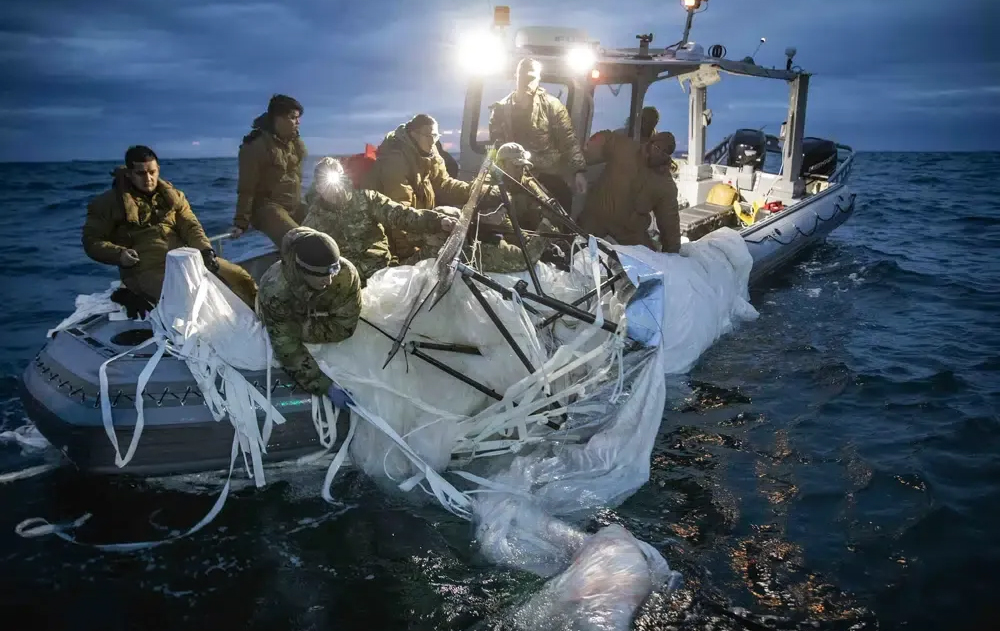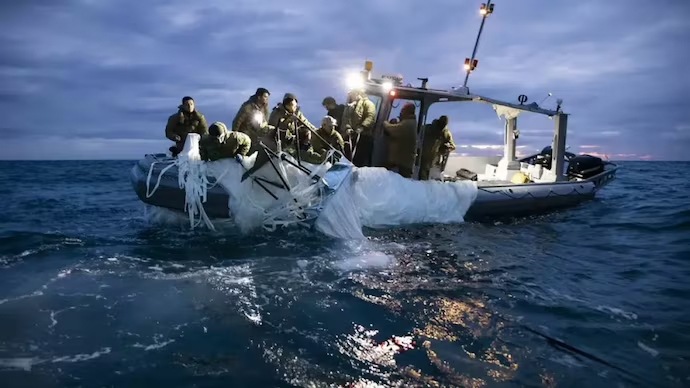 The Navy has deployed drones dubbed the Kingfish and the Swordfish to locate the debris, The Associated Press reported.

The Navy divers have so far collected the balloon's white fabric and shell structure floating on the surface. The focus has now shifted to the underwater search for the remnants of the massive balloon and its "intelligence-collection pod."

A successful recovery of an "intelligence-collection pod" could potentially give the United States insight into China's spying capabilities, though the Pentagon has downplayed the balloon's impact on national security.

Navy and Coast Guard personnel were using underwater drones to locate and map the debris field, and divers were in the water gathering up what they could, officials told AP.

The collected debris will go either to the FBI lab at Quantico or other sites for detailed analysis.

The balloon, the size of three buses, was carrying a long sensor package underneath. It is not yet clear whether the balloon had gathered intelligence while hovering over military installations and nuclear launch facilities in Montana and elsewhere.

The officials are expected to brief US lawmakers on the balloon's capabilities and the progress in the recovery of debris today.

The recovery teams are taking precautions as there is a chance that the suspected spy balloon was rigged with explosives.

A Navy warship, the USS Carter Hall, is heading the recovery effort, aided by three Coast Guard cutters — the Venturous, the Richard Snyder and the Nathan Bruckenthal — as well as the USNS Pathfinder, an oceanographic survey ship. A salvage ship is expected to arrive today.

Chinese spy balloons have crossed into US territory in the past but the way that this one maneuvered, steering toward sensitive US sites, raised alarms. It was eventually shot down using a missile off the Carolina Coast on Sunday.

China has warned of a "necessary response" for shooting down what it claimed was a balloon for weather research that accidentally strayed into the US.

President Joe Biden told reporters it was always his view that the balloon needed to be shot down and brushed off a question about whether the incident would weaken US-China relations.

"No. We made it clear to China what we're going to do," he said. "They understand our position. We're not going to back off. We did the right thing and it's not a question of weakening or strengthening - it's reality."

The White House also said the US approach to relations with China would remain calm and it was up to China to decide whether it wanted to build on a meeting between President Joe Biden and Chinese President Xi Jinping last November.
Courtesy: India Today