Savadi, Shettar not in Cabinet, but promised to be rewarded soon
Mangalore Today News Network
Bengaluru, May 29, 2023: Two prominent Lingayat leaders hailing from the Kittur region of Karnataka, namely former Deputy Chief Minister Laxman Savadi and former Chief Minister Jagadish Shettar, who were instrumental in the Congress party's resurgence in the area, have surprisingly been excluded from the Cabinet of the newly-formed Congress government.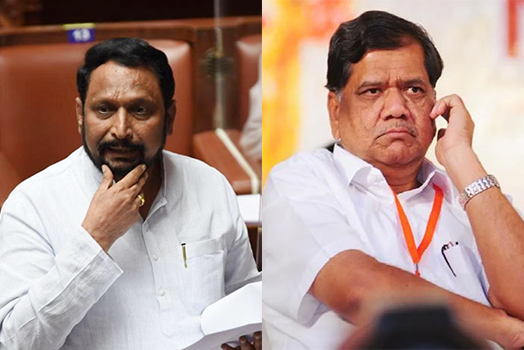 Reliable sources have confirmed that the party's high command has communicated to them through other leaders that they will be duly accommodated in the near future. However, the specific manner in which the party intends to acknowledge their contributions in bolstering the party's presence in the region remains unclear.

Prior to the Karnataka Assembly elections, both of these Lingayat leaders, who were then affiliated with the BJP, rebelled against their party and defied the directives of the saffron party. They not only raised concerns about the alleged mistreatment of Lingayat leaders, including former Chief Minister B.S. Yediyurappa, by the BJP, particularly by the party's national general secretary (organisation) B.L. Santhosh, but also subsequently resigned from the party and joined the Congress.

Political analysts believe that their entry into the Congress party provided a significant boost to the party's prospects in the region, which had been experiencing a dearth of prominent Lingayat figures, especially in the Kittur Karnataka area. As a result, the Congress managed to increase its seat share in the region.

Mr. Savadi secured a resounding victory with a record margin of over 72,000 votes from the Athani constituency. Although Mr. Shettar failed to retain the Hubballi-Dharwad Central Assembly Constituency, which he had won six consecutive times, his rebellion against the BJP did impact its chances in numerous constituencies in the Kittur and Kalyana Karnataka regions, according to observers.

This was the reason why former Minister M.B. Patil, who has now been included in the Cabinet, along with other senior Congress leaders, expressed confidence that Mr. Shettar and Mr. Savadi would be duly acknowledged by the party's high command.

Insiders suggest that the party's high command also seemed positive in this regard, as indicated by the responses from senior leaders. However, both leaders have now missed out on Cabinet positions and have chosen to remain silent. Only Pradeep Nandagaon, a Congress leader and a close associate of Mr. Savadi, expressed dissatisfaction with the Congress high command for not including his leader in the Cabinet.