Karnataka to formulate new education policy in the place of NEP: Shivakumar
www.mangaloretoday.com
Bengaluru, June 1, 2023: In a resolute display of governance, the newly formed Congress government in Karnataka has set its sights on crafting a pioneering education policy, thereby discarding the previously implemented National Education Policy (NEP) by the erstwhile BJP government, according to reliable sources.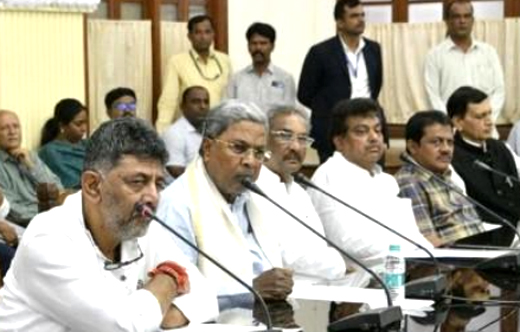 Deputy Chief Minister D.K. Shivakumar has unequivocally declared that the NEP will not find traction within the state, as the Congress government intends to forge a distinct path by devising a fresh and innovative education policy. Shivakumar had earlier characterised the NEP as the "Nagpur Education Policy," alluding to its alleged ideological leanings towards the RSS headquarters located in Nagpur.

Shivakumar expressed his stance on Thursday, asserting, Shivakumar stated on Thursday, "There should have been elaborate discussion on the NEP. I am an education expert by choice. I run education institutions and am in the post of trustee or president in various institutions. I can't understand the NEP. I tried to study and understand twice or thrice, but failed."

Even after discussing with students and teachers, not able to grasp the gist of NEP, Shivakumar said, pitching for its change.

Already, Chief Minister Siddaramaiah had sought the complete reversal of the NEP, contending that its underlying objective revolves around imparting communal ideologies to students. He vehemently argued that the NEP infringes upon the rights of the state.

Sources indicate that the Congress government aspires to eliminate all recent additions to the student syllabus, crafting an education policy that resonates with the distinct priorities and aspirations of the region. Shivakumar further emphasized that the matter will undergo comprehensive deliberation.

Responding to these developments, former Chief Minister Basavaraj Bommai reflected, "The implementation of the National Education Policy (NEP) in Karnataka has taken nearly three years. A committee headed by U.R. Rao was established, ensuring consensus among all states. Subsequently, a task force was created prior to its implementation in both higher and primary education."

The stage is now set for the Congress government in Karnataka to manifest its vision for education, molding a policy framework that encapsulates the essence of progressive thought and caters to the unique needs of the state, sources said.