1 Indian national missing in earthquake-hit Turkey, 10 stuck in remote areas: Govt
Mangalore Today News Network
Adana, Feb 08, 2023: The Ministry of External Affairs (MEA) on Wednesday said that one Indian national is missing and ten are stuck in remote areas of earthquake-hit Turkey.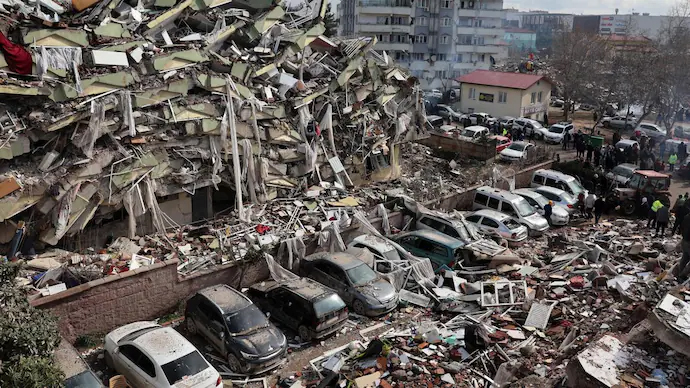 Addressing a press conference, MEA secretary Sanjay Verma said that India has set up a control room in Turkey's Adana. "We set up a control room in Turkey's Adana. 10 Indians are stuck in remote parts of affected areas but they are safe. One Indian National who was on a business visit is missing. We are in touch with his family and the company in Bengaluru which employs him," Sanjay Verma said.
The ministry also informed that as many as 3,000 Indian nationals live in Turkey and they have received calls of 75 people seeking assistance.

Additionally, India has sent relief materials to Turkey, including medical supplies, a mobile hospital and specialised search and rescue teams. The aid was sent in two C-17 Globemaster military transport aircraft to help the country in the wake of the series of devastating earthquakes that rocked the nation.

Officials have said that weather condition are harsh in Turkey, but the National Disaster Relief Force (NDRF) teams are well equipped. "NDRF teams have gone with self-sustained goals. We don't want to be further burden on local population so we are completely prepared for 15 days," an MEA official said.

Operation Dost

"This is the biggest natural disaster to hit Turkiye since 1939. We received an email from the Turkish side for assistance and within 12 hours of the meeting, first SAR flights left for Turkey from Delhi," the MEA secretary said.

"Thereafter 4 such flights (sent to Turkey), 2 of them were carrying NDRF teams and 2 were carrying medical teams. One aircraft carrying medical supplies and equipment was sent to Syria," he added.

According to reports, rescue workers in Turkiye are racing against time to save people trapped under the rubble of thousands of buildings.

The first C-17 transport aircraft of the Indian Air Force, carrying a group of search and rescue personnel, specially trained dog squads, drilling machines, relief material, medicines landed in Adana in the quake-hit country landed on Tuesday.
Courtesy: India Today