Temple elephant's hilarious jackfruit heist goes viral, Watch
Mangalore Today News Network / News18
May 19, 2023: Beating the scorching heat with juicy fruits is a delight not only for us humans but also for our fellow creatures in the animal kingdom. And if you ever doubted their love for a sweet treat, this captivating video will make you think twice. Brace yourself for a hilarious incident involving a temple elephant that took an unexpected detour from protocol during a grand procession. The atmosphere was electric as the elephant majestically carried out its duties, captivating the awe-struck crowd. All eyes were glued to the magnificent spectacle unfolding before them. However, amidst the commotion, something caught the mischievous tusker's attention, triggering a drastic change of plans.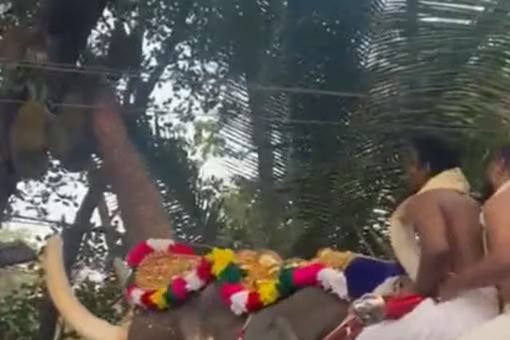 With a single-minded focus, the elephant disregarded all protocols and set its sights on an irresistible prize: a luscious jackfruit suspended from a tree.
The onlookers watched in disbelief as the colossal creature defied expectations, seemingly possessed by its desire for the tropical delight. Despite valiant attempts by humans to steer the elephant back on course, their efforts were in vain. Unyielding, the determined elephant stretched its trunk and skillfully plucked the prized fruit, much to the amusement of the crowd. In a moment the elephant swiftly devoured the stolen treasure, leaving everyone in uproarious laughter.

The accompanying tweet perfectly captures the essence of the scene, stating, "When he saw the jackfruit, he forgot all the protocols." Indeed, the video serves as a gentle reminder that even the most dignified creatures can succumb to their cravings, delighting us with unexpected moments of hilarity.

In a world where chaos often reigns, it's these whimsical and heartwarming episodes that capture the hearts of people on social media. People could not stop gushing over how adorable the elephant is and how much he deserves to pop in that fruit. Others were amazed that the creature knew which jackfruit to pluck off the tree. "Absolutely adorable! It's a small price to pay, considering the gentle giant is on a collection drive!" wrote a Twitter user.
Write Comment
|

E-Mail
|

Facebook
|
Twitter
|

Print