Vidya Balan hides and runs away from Media
Mangalore Today News Network
Mumbai, May 18, 2018 : It has been a long time since we saw Bollywood's Sulu Vidya Balan out and about on the streets of Mumbai with her hubby dearest Siddharth Roy Kapur. It was only recently that the Tumhari Sulu actor was snapped by the shutterbugs alongside her husband, Siddharth Roy Kapur.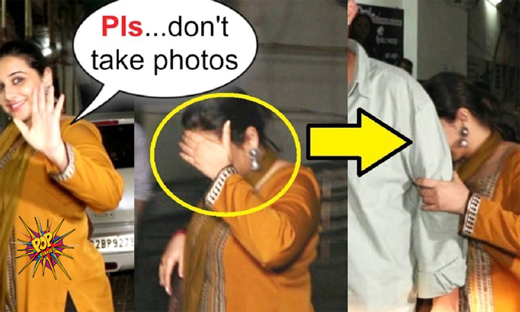 Well, the actress has always been absolutely Khullam-Khulla about everything in her life. From her opinions to her future plans to he career as well as also in portraying her characters. She is truly a beautiful woman inside-out as an actor as well as a personality in the Bollywood industry. Vidya Balan has always reflected the Indian beauty and its tradition in its true essence although with confidence and power. So, what's up now, that the usually open and extrovert Vidya Balan was suddenly running away and hiding from the paparazzi.

All they had asked was some pics of the couple on an outing together, and although personal time and space shouldn't be crowded at all, may it be whoever! The odd behavior notably coming from Vidya Balan's end definitely threw us off. What could have been the matter!?

Well, here's a video of Vidya Balan snapped with her husband, Siddharth Roy Kapur as she tries running away from the shutterbugs!

Well, at least we got to see the lady who has always made us very happy and excited about her Bollywood movies. From Parineeta to Kahani to Tumhari Sulu, Vidya Balan is a one-star actor, she is literally enough to make you want to go and relax in her movies! We eagerly await her next project!


courtesy:Yahoo