New development to Facebook photo assault case; College suspends students
Mangalore Today News Network
Mangaluru, Feb 23, 2015: Further the Social media student photo assault case reported earlier today, a new development has surfaced. The students involved in the controversial photograph uploaded on Facebook (where a boy is lying on the laps of five girls in a classroom), are stated to be now suspended from the college.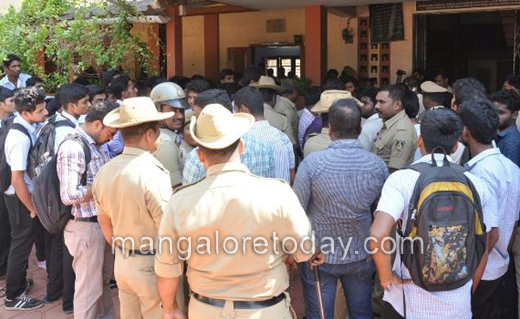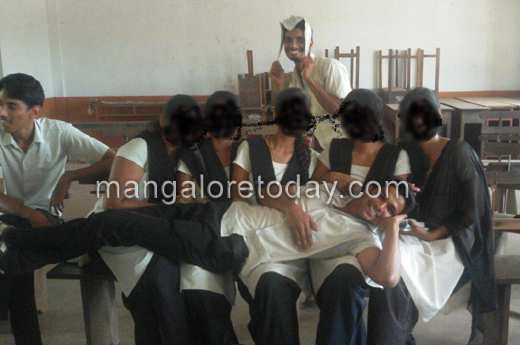 (controversial photo)


They belong to Govinda Dasa College, Suratkal and are students of final year BCA. One of them Riyaz, who was seen on the side lines in the photo has not been acted against. It is learnt that a committee is set to probe the matter as necessary.

Students involved in the incident and their parents were called to the college today February 23. The committee, after enquiring decided to suspend the students until further inquiry and refer the matter to a special committee comprising representatives of Mangalore University and the management.

A communication to the Mangalore University, Student Welfare Officer, Principal Prof K Rajamohan Rao stated that in order to inquire into the matter, a committee was constituted comprising senior staff members of the college as well as its Admin Director.

The principal stated that the incident in the social media has created a 'lot of emotional fallout among students and the public'. Speaking to media, the principal stressed that the five girls and the boy lying on their laps have been suspended. It is said Riyaz has not been suspended and has been asked to appear before the committee on February 26 to give his statement. Any further action can be proceeded with only after a report from the inquiry committee.

It is reported that ABVP has written to the concerned authorities that the accused students be debarred. The whole matter will have to be viewed by a legally set up committee.
Related News:
Photo on social media,M'luru student assaulted
Write Comment
|

E-Mail
|

Facebook
|
Twitter
|

Print