Malali Mosque Controversy: Prof. Narendra Nayak renews challenge to astrologers
Mangalore Today News Network
Mangaluru, May 26, 2022: Following the claim made by Hindu fringe organizations that their astrological enquiry made through the 'Thamboola Prashne' ritual has revealed the presence of Lord Shiva at the site of Malali Mosque near Gurupura, Prof. Narendra Nayak, President of Federation of Indian Rationalist Organizations (FIRA) has renewed his long standing challenge to astrologers to participate in a contest to prove the reliability of their predictions.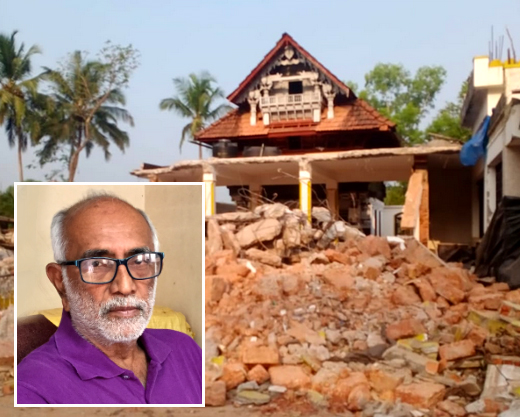 In a media release titled 'An open invitation for claimants of powers of prediction for past and future' he has announced that he has concealed six envelopes containing different information in a sealed envelope. Contesting astrologers are required to accurately predict the contents of the six envelopes and claim a prize money of Rs. One Lakh if their answers are proved to be correct. The sealed envelopes will be opened at the Mangalore Press Club on June 1 at 10:30 a.m.

Prof. Narendra Nayak, who is a renowned mythbuster and crusader against superstition, has periodically announced such contests during general elections and at other times. So far no astrologer has been able to make the correct prediction for this blind test and the prize money remains unclaimed.

The following is the contents of his media release:

An open invitation for claimants of powers of prediction for past and future

Since the so-called accurate predictive astrology which can read the past and future has hit the headlines again, we are herein re-iterating our challenge to those who can predict the past and future. Most recently in a place called as Malali near Mangalore a so called betel leaf astrologer has made some predictions about the past.

Well, this could be a wild guess or a fixed result. So, in order to test the powers of this individual or any others of this type, we are herein devising a fool proof method for testing the powers. When this press note is published, the event of placing things in and sealing the envelope, that has happened will be past and the opening of them will be in future and hence accurate horoscopes or whatever inputs needed are made available.

The envelopes have been sealed at 11.33 am on the 26th May, 2022 at Mangalore and will be opened at 10.30 am on the 1st June,2022 at the Press Club, Mangalore. The prizes will be announced there. I do hope that this data should be enough to make predictions.

The challenge is open to all regardless of the religious beliefs, caste, creed, nationality. The entries can be sent by email to the undersigned at narenyen@gmail.com or whatsapped to 9448216343. All entries received up to midnight of 31st May will be considered for the results. Since the time is short, postal entries are not acceptable.

The outer sealed envelope will contain 6 smaller ones with questions on them on the outside. The answers to the questions are to be typed as envelope 1 contents and details and so on. The entry whose answers are fully correct according to the instructions will be decided as the winner. Vague answers like contains a currency note or a paper are not acceptable and will not be considered as correct.

The entry whose answers are right according to conditions mentioned above will receive an award of Rs.100,000 only as cheque after deducting applicable taxes. If more than one entry has all correct answers according to conditions mentioned above, all will receive Rs.100,000 each. However, due to the limits of finance if the number of all correct entries exceeds 50, the challenger will declare bankruptcy!
Write Comment
|

E-Mail
|

Facebook
|
Twitter
|

Print