Karkala: 21 complaints and a FIR against Baradibeedu Kambala Organisers
Mangalore Today News Network
Karkala, Dec 22, 2014: The Animal Welfare Board of India (AWBI) has lodged as many as 21 non-cognisable complaints and an FIR at Karkala Rural Police station in connection with the Baradi Beedu Kambala held at Baradi village in Karkala.

Baradi Eeedu Kambala was the first race to be held after the high court lifted the ban on Kambala with some conditions.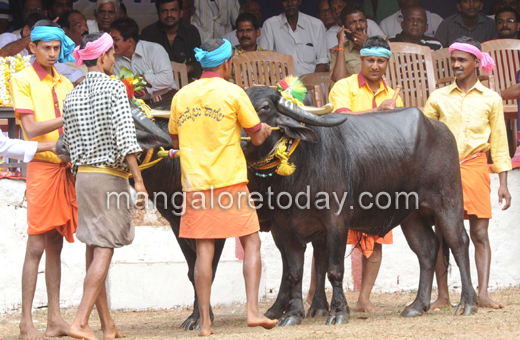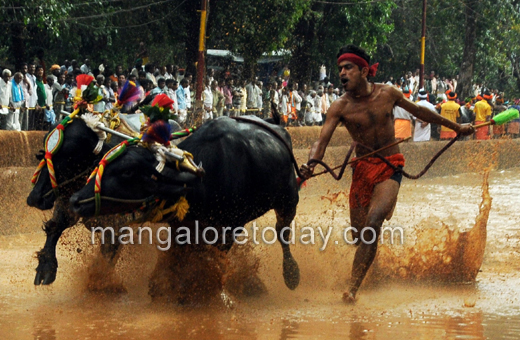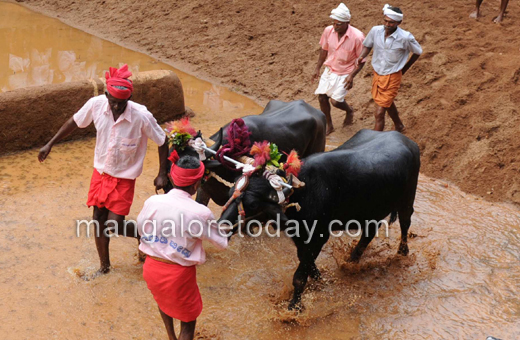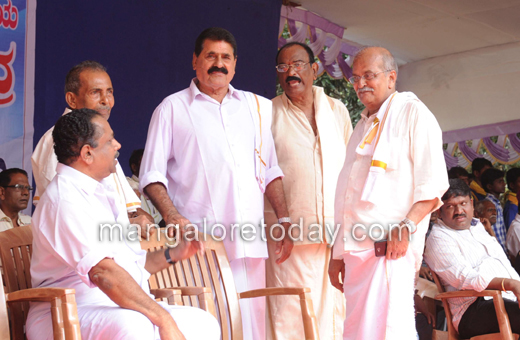 Dr Manilal Valliyate, Peta director-veterinary affairs, said the most common forms of cruelty were pulling the buffaloes' nose rope, beating them with hands and shouting causing fear and distress to the animals. Five to six people pushed the buffaloes, pulled their nose ropes and shouted commands to force them to take positions, he said.

Honorary animal welfare officers appointed by the Animal Welfare Board of India (AWBI) filed 21 non-cognizable and one cognizable FIRs at Karkala rural police station, pointing out cruelty to buffaloes.

The complaints cited handlers hitting buffaloes, pulling their tails and yanking their nose ropes besides forcing buffaloes with bleeding nostrils to participate in races and denying them veterinary care. The complaints also pointed at insufficient measures to unload buffaloes from the vehicles and lack of health and vaccination checks.

According to Valliyate, handlers threatened the animals with sticks and colour cloths and shouted commands to induce fear in the animals to make them run faster.

"Kambala races - which force buffalo to run out of fear and the threat of physical abuse - have no place in a civilised society, and the Supreme Court has already confirmed that," said Valliyate and added that the "inspection proved that no regulation can prevent cruelty to bulls which terrify and harm them."

Confirming filing of FIRs, the Udupi SP P Rajendra Prasad said, "The AWBI has made these observations of treatment of the animals before and after the race. During the race per se there was no violence as per the report of the police officer present at the venue."

Expressing shock over the development, Kambala expert Gunapala Kadamba said there was no violence against animals.

FIRs: According to the complaints filed by AWBI, the district police have registered 21 FIRs against those who violated the Prevention of Cruelty to Animals Act, 1960, the Performing Animals (Registration) Rules and the Indian Penal Code. One cognizable FIR under IPC 429 (Mischief by killing or maiming cattle) was filed as a buffalo jumped lane during the race and suffered leg injury.

Write Comment
|

E-Mail
|

Facebook
|
Twitter
|

Print