Padma Awards 2023: Former Karnataka CM SM Krishna, architect Balkrishna Doshi, others honoured
Mangalore Today News Network
New Delhi, Mar 23, 2023: Former Karnataka chief minister S M Krishna, noted industrialist Kumar Mangalam Birla and famous playback singer Suman Kalyanpur were given Padma awards by President Droupadi Murmu at a ceremony at the Rashtrapati Bhavan on Wednesday.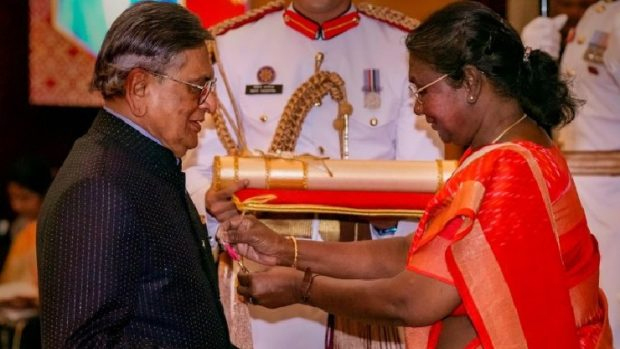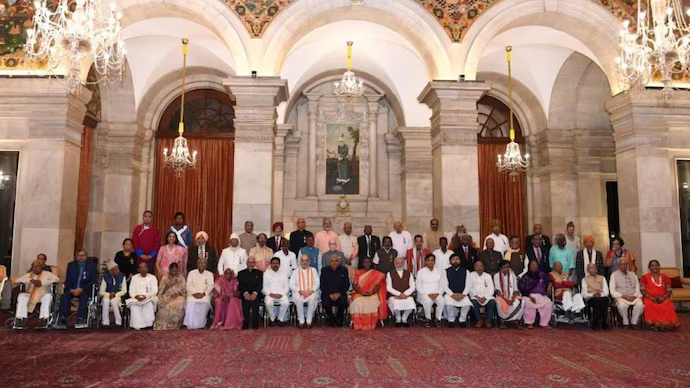 Besides them, billionaire stock market investor Rakesh Jhunjhunwala, who had passed away last year, was given the Padma Shri posthumously.

The event saw some awardees turning emotional and a few briefly interacted with Prime Minister Narendra Modi.Krishna, a former external affairs minister, who is "known for his statesman-like vision and administrative acumen during a career spanning more than six decades", was given the Padma Vibhushan, the Rashtrapati Bhavan tweeted.

He was external affairs minister in the Congress-led UPA government and had later joined the BJP.

Noted architect Balkrishna Doshi (posthumously) was also given Padma Vibhushan, the country's second highest civilian honour. Doshi, known for using minimalistic, simple and eco-friendly approach to architecture, designed many iconic structures.

Birla, chairman of the Aditya Birla Group, was given the Padma Bhushan. One of the first Indian groups to venture abroad, it has acquired widespread global presence, the Rashtrapati Bhavan said in another tweet.

Delhi-based professor Kapil Kapoor, spiritual leader Kamlesh D Patel and Kalyanpur were conferred Padma Bhushan, the country's third highest civilian award.

"A former Professor of English at JNU, he is known for striving to indigenise higher education by integrating Indian knowledge systems and establishing dedicated Institutes," it tweeted.

Patel is the founder of the Heartfulness Movement, and has developed Kanha Shanti Vanam, which is home to one of the world's largest meditation centre.In another tweet, the Rashtrapati Bhavan said Kalyanpur, a renowned Indian playback singer lent her voice to innumerable hit songs in Hindi, Marathi and 11 other languages during a career spanning four decades.

President Murmu had to move forward to give the award to 86-year-old Kalyanpur who had difficulty in walking due to old age.

Jodhaiya Bai Baiga, a prominent artist of Baiga painting, Usha Barle, performer of Pandwani and Panthi art forms of Chhattisgarh, and Raman Cheruvayal, a tribal farmer from Kerala who is known for his contribution to sustainable agriculture and preservation of biodiversity, were given the Padma Shri.

While Baiga was seen interacting briefly with the president after accepting the award, Barle, dressed in a traditional red attire of Chhattisgarh, knelt on the red carpet after her name was announced for the award and greeted the prime minister. She then stood up and again knelt to greet the president.

Renowned puppeteer Mahipatrai Prataprai Kavi, aged 92, stood up from his wheelchair with the help of the support staff present there to receive the Padma Shri. Gujarat's Hirbaiben Ibrahimbhai Lobi, who was awarded the Padma Shri for her work on women empowerment, was seen blessing the prime minister.

Dressed in salwar-kameez, 60-year-old Lobi turned emotional while walking on the red carpet to receive the award form the president. She saluted Murmu and touched her shoulders while receiving the honour and posing for a photograph.

The Narendra Modi government has been honouring many unsung heroes who have been contributing to society in different ways with Padma awards since 2014 when it came to power for the first time.

Bhanubhai Chunilal Chitara, who has helped in preserving and promoting the traditional Mata Ni Pachedi craft of Gujarat, and Sankurathri Chandrasekhar, a managing trustee of Sankurathri Foundation, which has educated a large number of rural students, provided eye-care to over 37 lakh people and performed over three lakh surgeries, were awarded the Padma Shri.

Noted academician and Sikh scholar Rattan Singh Jaggi was also conferred the Padma Shri award.

The ceremony was also attended by Vice President Jagdeep Dhankhar and Lok Sabha Speaker Om Birla as well as Home Minister Amit Shah and several other Union ministers.

The president had approved conferment of 106 Padma awards, including three duo cases (in a duo case, the award is counted as one), on the eve of this year's Republic Day.

Of these, over 54 people were awarded -- Padma Vibhushan (3), Padma Bhushan (4) and Padma Shri (47) -- on Wednesday. Rest of the awardees would be conferred the honour in another ceremony later.Two awardees-- Zakir Hussain (Padma Vibhushan) and Tularam Upreti (Padma Shri) -- were not present in the investiture ceremony.

Padma awards are conferred in three categories -- Padma Vibhushan, Padma Bhushan and Padma Shri. India's top civilian award Bharat Ratna has not been given to anyone since 2019.

The awards are given in various disciplines and fields of activities vis-a-vis art, social work, public affairs, science and engineering, trade and industry, medicine, literature and education, sports, civil service, etc.

Padma Vibhushan is awarded for exceptional and distinguished service; Padma Bhushan for distinguished service of high order; and Padma Shri for distinguished service in any field.
Courtesy: India Today