Jay Chaudhry, Himachal man who once studied under a tree is now the 9th richest Indian
Mangalore Today News Network / Yahoo
New Delhi, Mar 05, 2021: We all love a rags to riches story. They are heart-warming and motivational. These tales give us hope amid despair. One such story is of Jay Chaudhry, owner of the cybersecurity firm Zscaler, who has climbed 577 spots in Hurun Global Rich List 2021. It and has also made him grab a spot among India's top ten richest – the Indian-American is at the 9th position.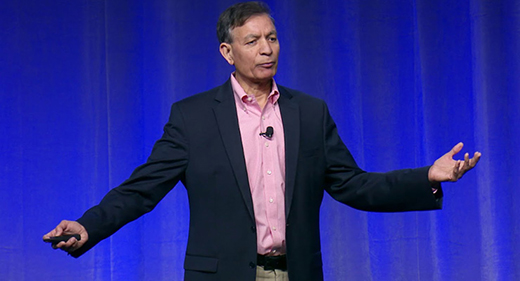 The now 62-year-old was born in a small village Panoh, Una district of Himachal Pradesh, and used to study under a tree. His village had no access to electricity and faced a scarcity of drinking water. He was raised by a single mother as his father passed away when he was young.

In an interview with Tribune in the year 2000, Jay mentions how he used to walk nearly 4 kms to reach his high school at Dhusara, the neighbouring village. Through his hard-work he went on to bag a seat at the prestigious IIT-BHU in Varanasi and eventually moving to the US in the 80s for further study. He holds an MBA from the University of Cincinnati, Ohio.

Jay and his family own a 45 percent stake in Zscaler – a public company listed on Nasdaq that today is worth $28 billion. The Hurun List highlights that his net worth skyrocket by a whopping 271 percent last year, touching $13 billion.

Zscaler is known to provide security as a service to leading tech companies around the world including the likes of Microsoft, Siemens, CrowdStrike, and AWS, among others. The pandemic has been a boon for cybersecurity sector as work/stay at home during has icresaed its demand. The company has over 5,000 clients with a quarter from the Global 2000, while also having over 6,000 employees.

Now an American citizen, Jay founded Zscaler in 2008 and closed its initial public offering in 2018. On its first day of trading, the company closed at $33, which was 106% of the listing price of $16.

The Hurun Global Rich List 2021 currently ranks Tesla founder Elon Musk at the top spot.

According to the list Besides Jay, there are a total of 208 Indian billionaires in the world, including 32 living outside the country. Of these, around 61 billionaires in India reside in Mumbai, followed by Delhi with 40 and Bengaluru at 22. The richest of all is RIL Chairman Mukesh Ambani with a net worth of $83 billion.