Bengaluru Dentist throws 4-yr-old mentally challenged daughter off 4th floor balcony
Mangalore Today News Network / News18
Bengaluru, Aug 05, 2022: In a tragic incident, a four-year-old mentally challenged girl died after she was allegedly thrown off the fourth-floor balcony of their residential apartment complex and then tried to kill herself in Bengaluru's Sampangiramanagar, police said on Friday. CCTV footage of the incident, which took place on Thursday at a residential apartment complex, shows the accused, Sushma Bharadwaj, walking on the balcony with her daughter and throwing her down. She is seen climbing over the railings and standing on the ledge before some people rush over and pull her back. The child died on the spot.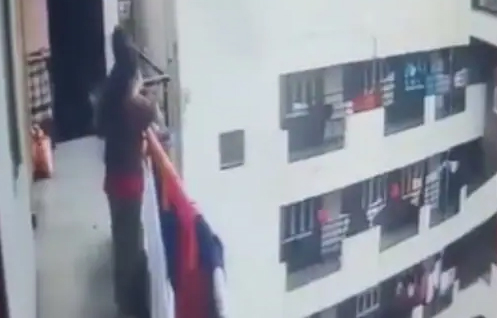 Sushma who is a dentist and her husband Kiran, an engineer have been married for 12 years and had a daughter Dhruthi who had speech impairment for the past two years. She was under medication and her mother was reportedly upset about it.

The accused had also attempted to kill herself moments after throwing her daughter but was rescued by neighbours, officials added.

"When we went to spot to see how the child fell from the fourth floor and while checking CCTV footage it was found that mother threw her daughter because the child was mentally challenged. We have arrested the mother and further investigation is on", said Shrinvas Gowda, DCP Central Division.

After receiving information from the hospital, police reached the spot and started questioning the couple. The woman was arrested after her husband, Kiran filed a police case.

Previously, Sushma had tried to abandon her daughter at a railway station a few months ago. The minor was rescued after Kiran rushed to the station and with a help of child helpline members traced the baby near Hassan and brought her back home, the police said.

However, after the incident the father didn't file a complaint against her, they added.