Diplomats from 30 countries visit BAPS Hindu temple in Abu Dhabi
Mangalore Today News Network
Abu Dhabi, May 26, 2023: Ambassadors and members of the diplomatic community from more than 30 countries visited the under-construction BAPS Hindu Mandir – UAE's first traditional Hindu stone temple.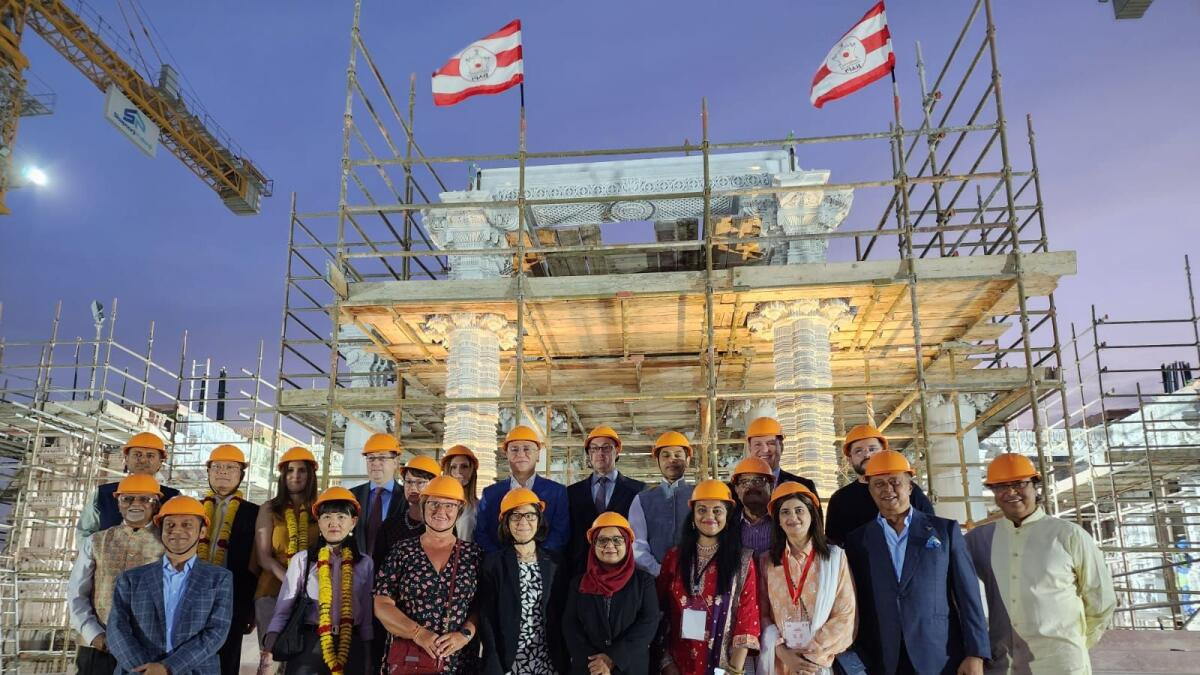 Envoys and mission representatives from the Philippines, Bangladesh, Sri Lanka, Afghanistan, Japan, Indonesia, Israel, Brazil, Belgium, New Zealand, Canada, Nigeria among others were present during the august gathering following a special invitation by Sunjay Sudhir, Ambassador of India to the UAE.

Sudhir briefed the ambassadors and their families on the progress of the temple, since the laying of its foundation stone by Indian Prime Minister Narendra Modi in 2018. He described the temple project as a symbol of the "close, historic and cultural bonds" between India and the UAE, who share the values of peace, harmony, tolerance and coexistence.

Sudhir also hailed the vision of the leadership of the UAE and their inspiring efforts to build a diverse, peaceful and cohesive community. A video message by S. Jaishankar, Indian Minister of External Affairs, talking about the temple was shown to the envoys.

Swami Brahmaviharidas, the head of BAPS Hindu Mandir, was also present on the occasion. In an interaction with Swami Brahmaviharidas, who is also spearheading the project, the envoys were briefed about the features of the temple, which will make it not only an architectural marvel but also a unique symbol of peace, tolerance and harmony.

During the tour, BAPS volunteers explained how folklores of the Indian belief systems and other world faiths have been depicted in the temple. The envoys marvelled at the intricately hand-sculpted columns, facades, and rafters at the temple premises, which incorporates cultural motifs from the UAE and India.

The envoys also interacted with the craftsmen and other team members at the temple. They expressed hope to return when the temple opens next year.
Courtesy: Khaleej Times