4th Annual Health Awards 2023 sets the stage for the biggest recognition in the healthcare industry
mangaloretoday.com
Dubai, Oct 31, 2023: As HEALTH Magazine gets ready to present the Fourth Annual Health Awards in 2023, it is setting the stage for the biggest event in the healthcare sector, gathering leading industry speakers in the healthcare industry to create knowledge exchange and recognize transformative achievements. This high-profile event, which will have over 100 awardees and more than 60 categories, is scheduled on November 21, 2023, starting at 11 a.m. There will be a luncheon held at the Grand Hyatt, Dubai's Baniyas Ballroom after the event.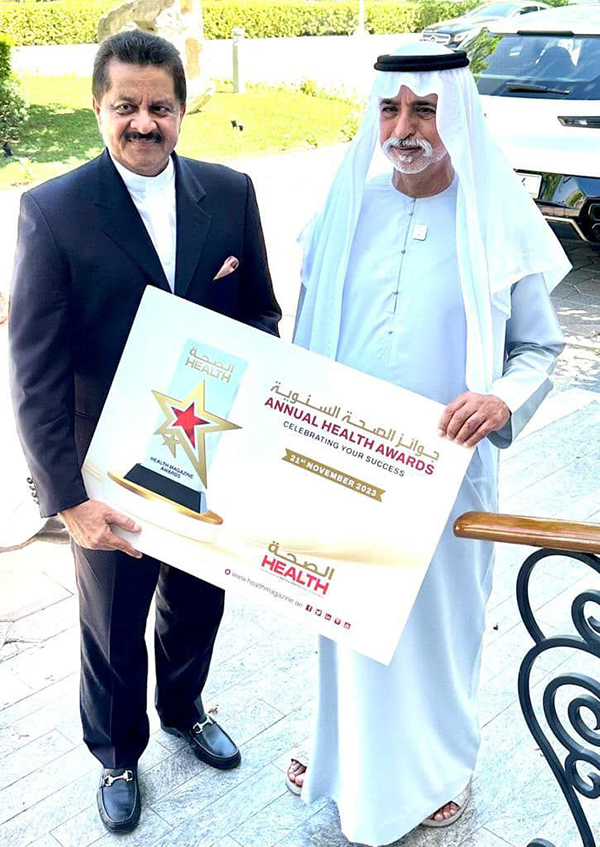 Hosted under the patronage of Ministry of Tolerance and Coexistence, the awards ceremony shall grace His Highness Sheikh Nahyan bin Mubarak Al Nahyan, Minister of Tolerance and Coexistence, as the chief guest and present awards to the worthy winners, in an event that will be attended by over a thousand guests, including well-known Bollywood and Arab celebrities, as well as executives and practitioners in the healthcare industry.

Ever since its inception, the Annual Health Awards have served as a forum for highlighting noteworthy accomplishments within the healthcare industry. The Annual Health Awards 2023 aims to encourage organizations and healthcare workers to dream big and take on ambitious projects. Nominations for the fourth edition of these renowned awards, which are regarded as the biggest and most prestigious healthcare honors in the area, are now being accepted from individuals and healthcare organizations."

While we take immense pride in being one of the world's leading healthcare professionals, this is also a challenge to our countrymen to always maintain the highest of standards wherever they are," Dr. Thumbay Moideen explained the initiative's goals, stating: "HEALTH Awards aims to promote excellence across the healthcare industry of the region. With high levels of quality and competence available at reasonable prices, the region, and Dubai in particular, is a popular destination for medical tourists. The region would become a center for medical tourism as a result of improvements to the quality and infrastructure."

Fairness and transparency in the nomination process are guaranteed by the skillful administration of the HEALTH Magazine Awards. Numerous categories that honor excellence in the healthcare industry are part of the 2023 HEALTH Awards. The magazine's Corporate Categories will honor excellence for a range of organizations, including medical facilities, clinics, laboratories, radiology services, pharmacies, pharmaceutical companies, medical insurance companies, fitness centers, suppliers of medical equipment and supplies, organizations devoted to treating people of determination, medical tourism, hospital infrastructure development, and organizations for innovative technology.

Also, HEALTH Awards will recognize individual contributions to healthcare in the Individual Categories. These categories include: Leaders in the Healthcare Field, which includes Founders, Owners, and Entrepreneurs; Executives in the Healthcare field, which includes roles like CEO, COO, CMO, and CFO; Physicians, Surgeons, and Medical Specialists who demonstrate exceptional expertise; Women in the Healthcare Industry, which includes remarkable innovators; Committed Nurses who offer vital care; and Pharmacists who make sure prescription drugs are used safely and effectively. Together, these categories honor the commitment and brilliance of the healthcare industry, recognizing its critical role in advancing health and wellbeing.

The HEALTH Awards 2023 are currently accepting nominations for more than sixty corporate and individual categories. Please visit the website at http://www.healthmagazine.ae/awards for more information on the award and its categories, as well as to submit your profiles.