This adorable cat won't let anyone touch its canine friend, Watch
mangaloretoday.com/News18
October 24, 2023: In a world often plagued by discord and division, an extraordinary tale of unwavering friendship and feline devotion has captured the hearts of millions. In a quaint neighborhood, nestled away from the hustle and bustle of everyday life, a cat and a dog have become an inseparable duo, showcasing an unbreakable bond that has warmed the hearts of all those fortunate enough to witness it. What's even more remarkable is the feline's steadfast determination to protect its canine friend, not letting anyone else come close.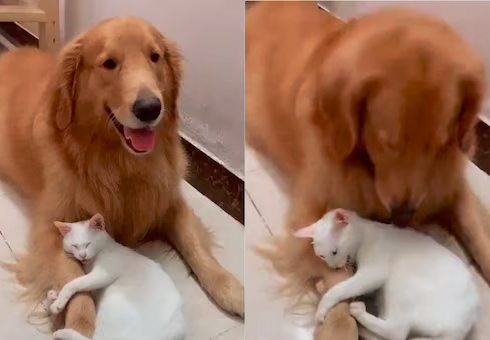 Shared on platform X (Formerly Twitter) by a user named Yog, the cute video commenced with a dog seated on the floor, accompanied by a cat tenderly embracing one of its hind legs.
Initially, in a peaceful slumber, the vigilant cat swiftly reacted as a person reached out to stroke the dog, employing its paw to gently repel the intrusive hand. The cat repeated the action thrice and did not let the person touch its canine companion.

Accompanying the clip, the caption read, "Do not touch."

As soon as the video surfaced on the internet, social media users flooded the comment section with a diverse range of responses to the endearing scene. Many users called the cat's gesture "cute" while others stated the furry feline is "jealous" and "protective" towards his animal friend. Some of the internet users showered love on the adorable animals.

Reacting to the post, a user wrote, "Get back. He's mine. All mine. See, I even bit him and he just smiled. He loves me." Another commented, "Aww such an adorably precious friendship of an adorably fluffy dog and an overprotective kitty."

The video was shared just two days ago, October 21, on X. Since its posting, it has garnered an impressive five lakh plus views. Additionally, the video has collected over eighteen thousand likes and numerous comments.

Their story serves as a testament to the incredible emotional capacity of animals, demonstrating that love knows no bounds, not even those of different species.
Write Comment
|

E-Mail
|

Facebook
|
Twitter
|

Print