Dog refuses to give up owner's wallet, netizens worried about Canine's behaviour, Watch
mangaloretoday.com/news18
November 11, 2023: Who doesn't like a pet dog guarding the owner's precious things such as a wallet or jewelry. However, a video that shows a pet dog refusing to give up its owner's wallet has sparked an online debate about proper dog training. The video in question was posted by an Instagram account which goes by the username @_munni_indap. It is dedicated to an indie dog called Munni. The video shows Munni hissing and showing her teeth to people who are coaxing her to give up a wallet that is kept between her front legs. Munni snaps at any attempt to get the wallet but in the end, allows a man to take it. The caption explained this scenario as, "Munni's guarding Dad's wallet like a bouncer at a VIP club – only Dad's on the guest list!".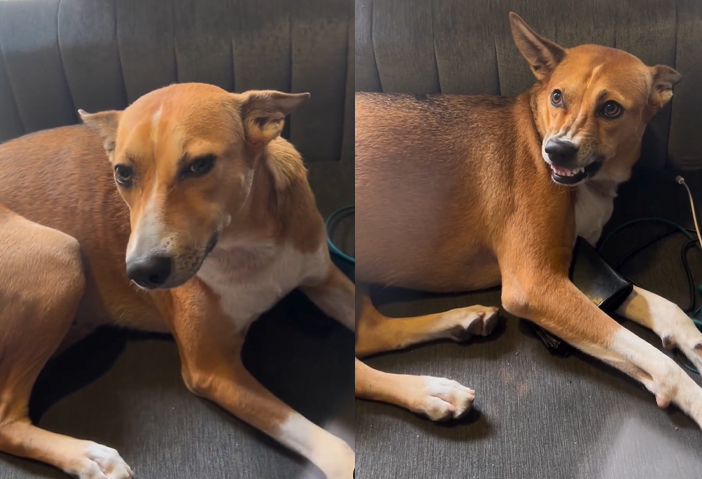 This video has so far gathered over two lakh likes since it was posted on November 6. While many people found the video cute, a few pointed out that the dog's behavior was 'resource guarding', in which a dog gets aggressively possessive over an object.
Commenting on the clip, a person wrote, "Not good. Not good AT ALL. This behavior is similar to resource guarding. If you don't address it and fix it with training immediately, your dog is going to end up biting a guest or child or family member. And that bite will not be a small one. The way she raised her hackles—-you guys are already in HUGE trouble. She knows you're scared of her. That is a bad sign."

Expressing a similar concern, another stated, "Video looks cute but soon the dog will learn that to avoid this situation bite the person coming near to her guarded things. It is serious. Please try to redirect her by a reward or a treat away from her and ignore the guarded things that time. You can also use professional help. Marking the right behaviour and correcting the wrong behaviour makes a better understanding. Hope you don't reinforce this behaviour and have a happy life together ahead with the cute furry friend."

According to The Humane Society of the United States, an animal welfare nonprofit, 'resource guarding' describes a behavior in which a dog asserts their ownership over something be it toys, treats, any object, or even human. The signs of resource guarding are "growling, ears pointed backward, lip-licking, a sudden stiffness in the body, and hyper-fixation on an object".
Write Comment
|

E-Mail
|

Facebook
|
Twitter
|

Print