Sherlyn Chopra wants to work with bad filmmakers
mangaloretoday.com /India today
Mumbai, March 21: Sherlyn Chopra, model, anchor and the reigning queen of internet who is making her debut in Bollywood with Rupesh Paul's epic erotica Kamasutra 3D, in a candid chit chat with Smita Mishra of Wonder Woman.in talks about her 'damn care' attitude, her family's reactions to her antics, her lifestyle and non-acting passions and also about what went wrong with Rupesh Paul that led to so much mud slinging.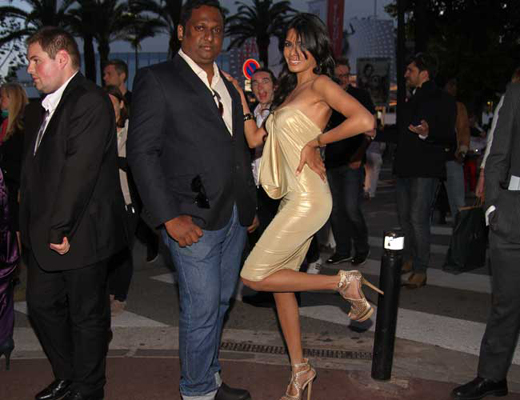 Besides, she also reveals why she wants to work with 'bad' filmmakers.

To read full interview

1. Bad girl brings your mellifluous side to the audience. What made you turn a singer?
I've been singing ever since I was a kid. The only difference is that as a child, I would sing for the church choir in Hyderabad and now I'm singing to express myself, all that I am and all that I stand for.

2. What do you actualy want to be famous as- a singer or an actor?
As a Goddess of Love who was born to entertain.

3. You were extremely upset with Rupesh Paul and waged a dirty war against him on Twitter. Do you think it was right to abuse him?
I do not believe in mirroring negativity. Mr.Paul and I were misguided by our common supposed 'friends' who were secretly trying hard to leave a dent in the aura of the film which was getting bigger and larger with each passing day. Mr. Paul and I have chosen amicably to resolve our differences and to rise above the drama.

4. And now the two of you have made up. Was it a publicity gimmick?
Our common detractors caused us to lose our focus momentarily. We have now decided to focus on the objective for which we had chosen to associate with each other in late 2012 which is Kamasutra 3D, a work of art and passion that we're both proud of.

5. What are your upcoming projects?
To begin with, there's Bad Girl, a multi-lingual film in which I play the protagonist. The movie, which is being produced by Shah Productions and going to be directed by ace Malayalam film-maker, Shajiyem, encapsulates the rise and fall of a super model who is torn between being highly ambitious and yearning for true love and stability. Then, there's a Hindi feature film, to be announced later this month, in which I play a nautch girl. There's an English film in the pipeline for which currently, talks are on.

6. We were all eagerly waiting for your photo on the Playboy magazine, which never came. What was the real reason behind it?
The release of the pictorial is scheduled alongside the release of Kamasutra 3D.

7. Why have you named your single 'bad girl'....why not good girl? What are you-a good girl or a bad girl :) ?
If being brutally honest is bad, if endorsing nudity or homosexuality is bad, if refusing to put up with the society's double standards is bad, if celebrating one's sexuality is bad, if giving a damn to the so-called "moral-police" is bad, then I'd rather be called a BAD GIRL. It is imperative to be Bold and Daring to be able to live consciously and freely.

8. Share with our female audience, your diet and fitness regime?.
I avoid processed food and drinks. I generally consume high protein, moderate fibre and low carbs. I also avoid gluten. I like to eat simple, organic and healthy meals four to five times a day. Yoga and cardio-workout sessions keep me fit and fab.

9. Do you cook? What's your favorite dish and what do you cook the best?
I love fish and chicken! I make amazing chicken curry with herb brown rice. My friends suggest that I start a restaurant of my own as I'm passionate about food.

10. What's your beauty mantra?
Less is more. I wash and moisturize my face twice a day. And I take a facial steam once a fortnight. I make sure I sleep well and meditate so as to stay connected with my inner core.

11. Are you in a relationship? Do you believe in marriage?
I'm single by choice. Yes, I do believe in "marriage" which has become quite a relative term.

12. Would you do a porn film, if you get a good offer?
There was a time when I'd get excited while watching porn. As, I'm growing older, I'm finding myself drawn to things that have depth. I've always believed in doing what I love and loving what I do.

13. Have you heard of Shanti Dynamite? She has accused you of falsely claiming to be India's first Playboy girl?
More love and power to her and her family/loved ones.

14. Do you think casting couch really exists in Bollywood? Have you ever faced it yet?
Does corruption exist in India? We all know that corruption exists. Does that make us all corrupted? No.
Likewise, there are unprofessional individuals in the showbiz who mostly take the newcomers for a ride. Those who truly believe in themselves clearly understand that the "couch" is not a parameter to gauge one's potential as an actor.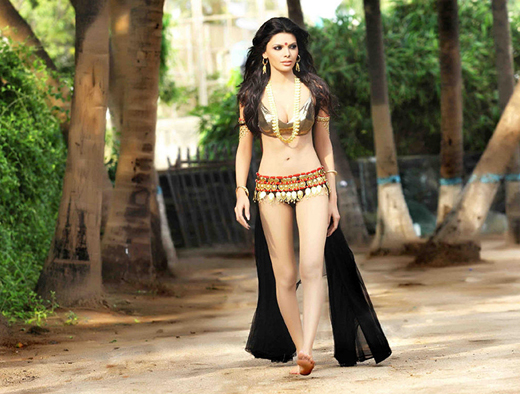 15. Is your family happy about your body revealing antics on Twitter?
My family is quite proud of my disciplined life-style, my toned body and my no-nonsense attitude. My sister who is a renowned DJ in Hyderabad is mighty proud of my approach to life. She recently reminded me that when the time for me to die would come, it is "I" who would have to face death. Nobody else on my behalf could die for me. Likewise, "I" should be allowed to live on my terms as long as I choose to live.

16. One Bollywood actor, you want as a co-star?
Anybody who is a great actor and can honestly play his role.

17. One director, you really want to work with?
Any director who is BAD, Bold And Daring.