Princess Diana dressed as a man to visit gay bar: book
Mangaloretoday/CNN/IBN
London, April 1: Princess Diana dressed up as a 'male model' to enjoy an anonymous night out with Queen singer Freddie Mercury and television entertainer Kenny Everett at a well-known gay bar here, a new book has claimed. The late Princess of Wales was a fan of the Kenny Everett Television Show and had struck up a friendship with him and his friend Cleo Rocos.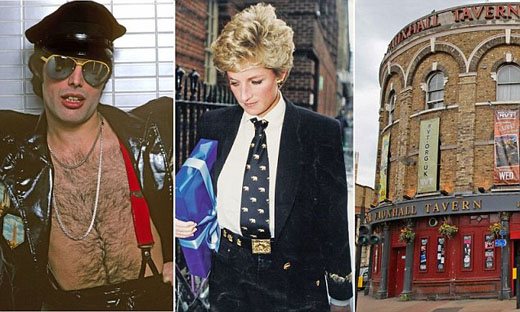 The new book by Rocos, 'The Power of Positive Drinking', reveals the bizarre episode in which Diana, wearing an army jacket, black cap and sunglasses, managed to order a round of drinks at Royal Vauxhall Tavern in South London in 1988. Mercury, Rocos and Everett played their part by soaking up the attention during the nerve-wracking 20-minute visit, allowing the Princess to blend in undetected, the Mirror reported.

The risky plan was hatched in 1988 after the friends had gathered at Kenny's penthouse in London. Rocos had tried to warn off Diana by saying the pub was full of "hairy gay men" and "sometimes there are fights outside". "Go on, let the girl have some fun," Freddie had said. "Scrutinising her in the half light, we decided that the most famous icon of the modern world might just pass for a rather eccentrically dressed gay male model," Rocos says in the book.

But the party still feared the ruse would be discovered at the busy nightspot. "The place was full. It took an absolute eon to edge our way to the bar, with person after person cheerfully greeting us. It was fabulously outrageous and so bizarrely exciting," Rocos says. "Our hearts pounded with every new leather-clad body that approached, but no one, absolutely no one, recognised Diana," she adds.

Giggling Diana ordered a white wine and a beer before taking a cab back to Kensington Palace, according to the book. "She did look like a beautiful young man," she says. Diana, who died in 1997, sent her friends a handwritten thank you message the next day which ended, "We must do it again!"