Poonam to earn Rs 60 lakh for jig in Love Is Poison
mangaloretoday.com
Mumbai, Sept 28: Bollywood actress Poonam Pandey has finally decided to take the plunge into Southern cinema.

Poonam has been signed for an upcoming Kannada movie, Love Is Poison, in which she is expected to perform an item number.

Earlier, there were speculations that the sexy siren would be seen in a different Kannada movie, Kajal.5, based on the December 16 gang rape case. However, the makers of that movie could not succeed in convincing her to be part of the project.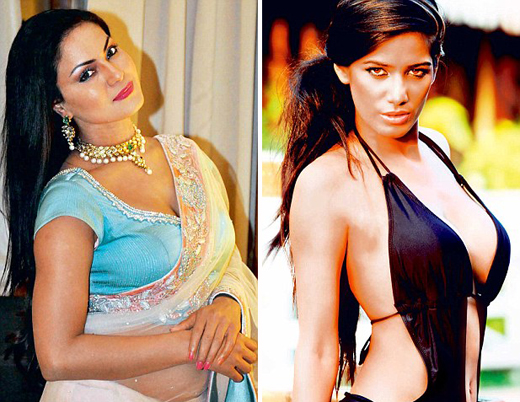 According to Nandan Prabhu, who is directing Love is Poison, Poonam will shoot for a song choreographed by Chinni Prakash from October 3 in Bangalore. There is no doubt that Poonam, who played the role of a "seductress" in the 2013 Hindi movie Nasha, will be the USP of Love is Poison.

Poonam Pandey (left) has been signed for the Kannada film Love Is Poison; Veena Malik received Rs 70 lakh for her role in Silk Sakkath Hot Maga

The actress has reportedly been paid a whopping Rs 60 lakh for the three-day shoot. This is a record remuneration in the history of Kannada film industry, which is known for medium-budget movies in the range of Rs 3.5 crore-6 crore.

Pakistani actress Veena Malik was paid Rs 70 lakh for her starring role in the Kannada movie Silk Sakkath Hot Maga. However, the film bombed at the box-office and the producer incurred huge losses.

Now, the makers of Love is Poison are banking on Poonam, who remains in news for her sizzling photo and video shoots, to deliver her worth. The movie does not boast of any great star cast with Rajesh, a reality show star, acting in his second project as a hero.

Film trade analyst Maruthi Prasanna is not impressed, though. "The producer is gambling with the movie's prospects. In Kannada movies, it is always the star power that attracts audiences to the theatres and not item dancers. Love is Poison depends extensively on Poonam to break even. If she is able to ensure their ROI (return on investment), then it will be a new trend in Kannada cinema," said Prasanna.

The movie's producer also has plans to dub the movie in Telugu and Tamil and release it in the respective markets.

The decision to pay Poonam such a huge sum could also upset Kannada film lead actresses, who are paid not more than Rs 40 lakh per movie.