Parineeti Chopra, Raghav Chadha wedding: All about their dreamy love story
Mangalore Today News Network / News18
September 23, 2023: One of the most talked-about celebrity couples, Parineeti Chopra and Raghav Chadha, is all set to tie the knot. The pre-wedding festivities will begin in Udaipur on September 23 and they will marry on September 24 in a traditional wedding ceremony. From being acquainted with each other when they studied in London to the breakfast that led to choosing each other as life partners, the duo have surely come a long way. Ahead of their intimate wedding, here is a look at their unique love story.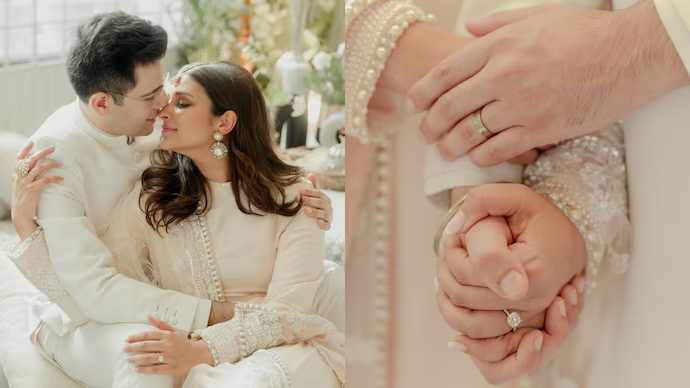 According to reports, Parineeti Chopra and Raghav Chadha became friends while studying in London. The actress graduated from Manchester Business School with a triple honours degree in business, finance, and economics, while the politician attended the London School of Economics (LSE). They first met in London, and their bond grew stronger over time.
According to a Women's Era report, Parineeti and Raghav took their friendship to the next level during her filming of Chamkila in Punjab. It was reported that the AAP leader regularly visited the actress on the set of the Netflix film directed by Imtiaz Ali.

Parineeti Chopra and Raghav Chadha got engaged on May 13 at New Delhi's Kapurthala House. But the rumours about their relationship had started spreading months before they exchanged rings. Parineeti and Raghav were first seen together outside a restaurant in Mumbai. In March of this year, the politician denied claims of an affair with her. However, their frequent outings and dates fueled the rumours.

Sometime after their engagement, Parineeti Chopra talked about her relationship with Raghav Chadha publicly for the first time through her Instagram handle. She shared pictures from their engagement ceremony and wrote, "When you know, you know. One breakfast together, and I knew – I had met the one. The most wonderful man whose quiet strength would be calming, peaceful and inspiring. His support, humour, wit and friendship are pure joy. He is my home. Our engagement party was like living a dream – a dream unfurling beautifully amidst love, laughter, emotion and loads of dancing! As we hugged those we loved dearest and celebrated with them, emotions overflowed. As a little girl in awe of princess stories, I had imagined how my fairytale would begin. Now that it has, it is even better than I had imagined."

Recently, even Raghav Chadha opened up about his relationship with Parineeti Chopra. In an interview with Ranveer Allahbadia, the politician shared, "Hum jaise bhi mile, it was very magical and a very organic way of meeting. It is something that I thank God every day for, for giving me Parineeti in my life."

He added, "Bahut badi blessing hai and I am extremely happy that I have her as my partner. As I said, I thank God every single day for giving her to me."

Meanwhile, the bride and groom have reached Udaipur, and the festivities are to begin today. Raghav Chadha and Parineeti Chopra are both well-known in their fields. While Parineeti has been lauded for many of her performances on screen, Raghav's journey from accountant to becoming the youngest Member of Parliament at the age of 33.