Miley Cyrus kicks of her Bangerz tour with VERY raunchy performance
Mangalore Today / Daily Mail
Vancouver,Canada, Feb 15: Her tongue has gotten so much press it should have its own PR agent and management team.

And in an overt nod to her infamous tongue wagging antics, Miley Cyrus opened her Bangerz tour by sliding out of a giant replica of her own mouth on a pink slide.

The 21-year-old kicked off the tour in Vancouver, Canada, on Friday by wearing a marijuana leaf leotard whilst performing her now predictable raunchy antics such as crotch grabbing and derrière waggling.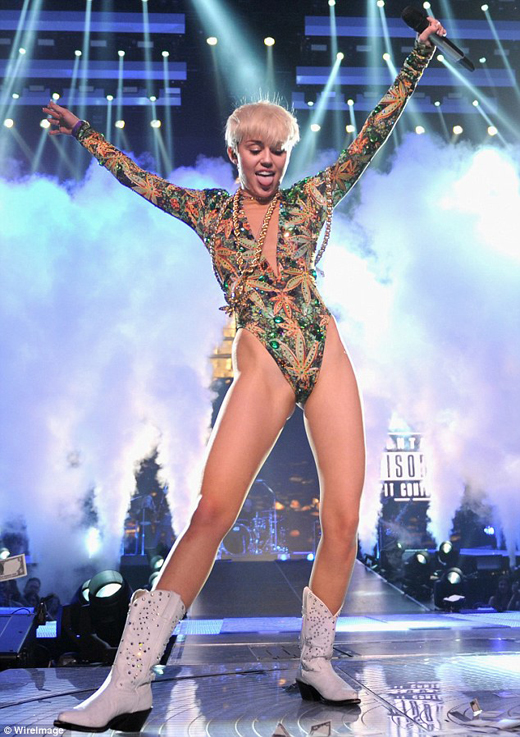 Advertising: Miley Cyrus wore a marijuana leaf leotard for her Bangerz tour in Vancouver, Canada, on Friday night


Riding the hood of a car, the Wrecking Ball singer spread eagled her legs as she dropped her microphone over her crotch in a racy dance portion of the show.

She then strutted atop the roof of the vehicle sticking out her rear, even bouncing a massive balloon off of her backside.

Wearing a leotard printed with marijuana leaves she strutted onstage in a pair of white cowboy boots before changing into a red mid-riff baring two-piece with fluffy feathered shoulders.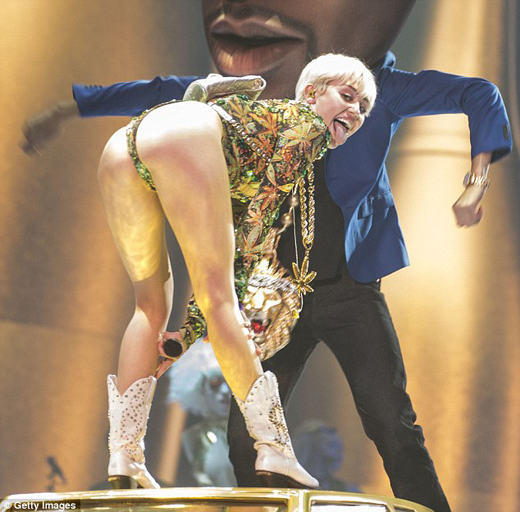 Showing her true colours: The Wrecking Ball singer displayed some of assets whilst onstage




Wild night: The Bangerz backup dancers got quite hands on with Miley

Car wash: Miley slid around the hood of a low rider vehicle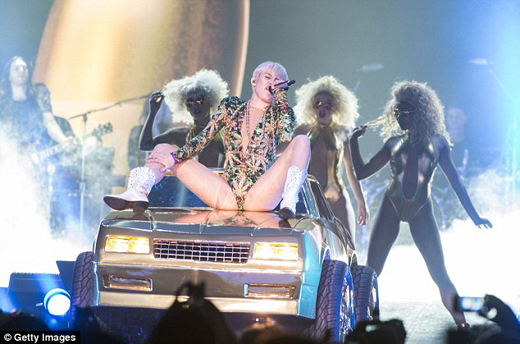 Belting it out: Miley crooned as she backup performers swayed behind her


Kick it like Miley in embellished cowboy boots


Her Bangerz tour kicked off in Vancouver on Friday night, and quelle surprise it was packed full of drugs, sex and, er, tongues.

But let's put her onstage antics to the side for a minute and talk about her tour costumes (which we predict we'll be seeing rather a lot of over the next few months).

Miley opened the show in a long sleeved, high cut, deep V leotard. So far so generic. Except on closer inspection you realise that Miley's leotard is actually emblazoned with marijuana leaves. Natch.

Her second - equally unwearable in real life - outfit consisted of a red, embellished, long sleeved, keyhole crop top with red and white marabou feather pom-pom shoulders and matching knickers. Cute.

But here's good part. Both outfits were accessorised with a pair of white embellished cowboy boots. FAB-U-LOUS. We just love the fact that Miley is referencing her country routes through her, er, boots. That's our girl!

So, if you're a Miley fan and want to kick it like your idol, check out our edit of too-cool-for-school embellished cowboy style boots in the gallery below. Yeeha!