Leander Paes becomes oldest man to win Grand Slam title!
www.mangaloretoday.com
New York, September 09, 2013: The oldest tennis player to win a Grand Slam with the US Open men's doubles trophy, Indian veteran Leander Paes said age is just a number for him, something that he just "looks at and smiles".

The 40-year-old partnered Czech Radek Stepanek to win the US Open 2013 men's doubles title, his eighth men's doubles Grand Slam title and 14th overall, on Sunday night after beating Alexander Peya and Bruno Soares 6-1 6-3.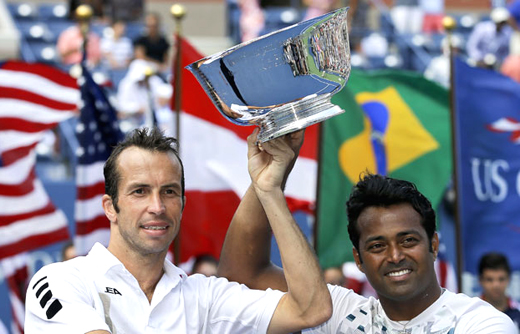 "Today Radek helped me to get to be the oldest man or the oldest tennis player to ever win a Grand Slam in the Open era. I thank him for that, and we are definitely not done. I'm going after 41 now, 42, and then 43," said Paes after winning the title.

"We both come from humble background and come from countries where tennis wasn't necessarily the number one sport. We both fought against adversity to get to where we are. So age is just a number for us. Age is something that we look at and we smile."

"We chat with you guys and smile about it, because, you know, you guys tease us about it, which is nice. For us, we really take it very seriously to go out and get better every day and to push each other," he added.

Paes insisted that this was one of his most "special" victories.

"This one is actually really, really special. For me, this one is probably even more special than the Australian Open win. In Australia I was going for a career slam, and that was something that Radek worked so hard to do."

"We achieved it; he did it for me. That was really special. This one really means a lot to me, because through this year we both had to handle a lot of adversity," he said.