Unique terracotta figurines found in Megalithic Dolmens in Moodbidri
Mangalore Today News Network
Moodbidri, Sep 12, 2023: Unique terracotta figurines in different states of preservation, along with bone and iron pieces, were discovered during the recent archaeological explorations conducted at the megalithic dolmen site in Mudukonaje near Moodbidri by researchers led by Prof Murugeshi T--retired associate professor in Ancient History and Archaeology at Mulki Sunder Ram Shetty College, Shirva.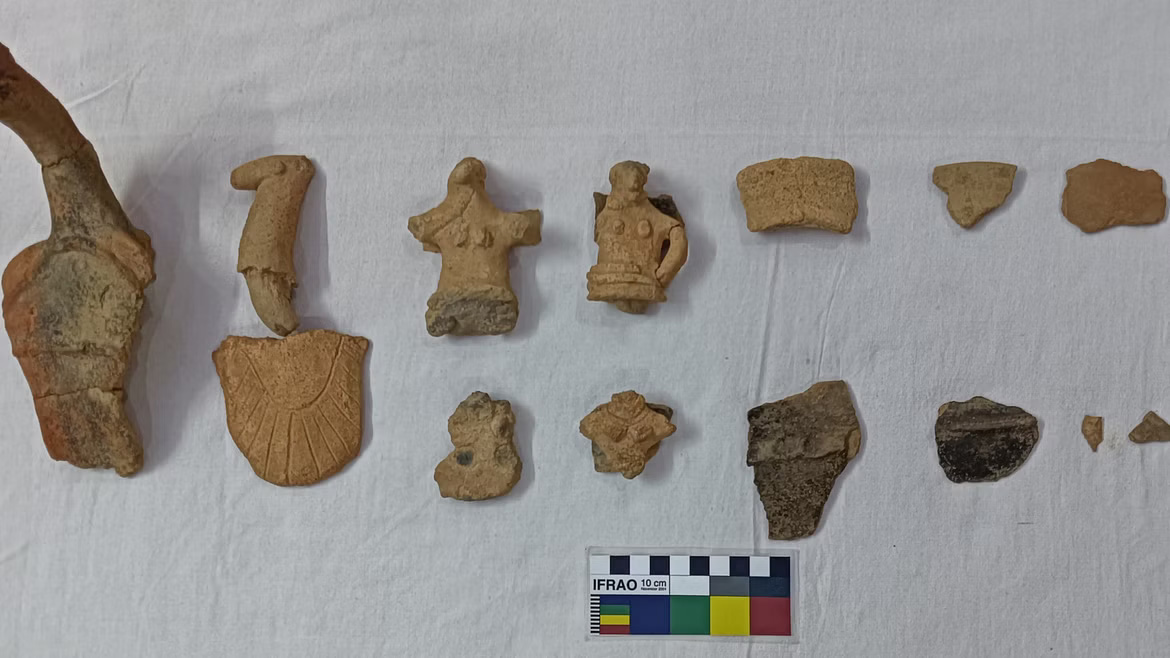 Mudukonaje Megalithic site was first reported by Dr Pundikay Ganapayya Bhat in 1980's. The site, located on the left side of Moodbidri and Shirthdy roads, was the biggest Megalithic Dolmen site, consisting of 19 Dolmens on the slope of a stone hill. Today, only two dolmens are intact, and the rest are in ruins.

Eight terracotta figurines were found in the Megalithic Dolmens of MuduKonaje. Out of eight, two are cow bovine, one is a mother goddess, two are peacocks, a horse, a hand of a mother goddess, and an unknown object.

Historical significance

Prof Murugeshi said terracotta figurines found at Mudukonaje in a Megalithic context are rare finds from India. They were found inside the surface of Dolmens, which was damaged by treasure hunters. It was the first time in India Cow Bovine was found in the Dolmens which helps to determine the chronology of the Dolmens.

Terracotta found in the Megalithic burial provides solid ground for study of the Bootha Cult or Daiva Aradhane of Coastal Karnataka. Cow Bovine, or cow goddess, had its parallels in the Malampuzha Megalithic terracotta figurines of Kerala and Egypt. Mudukonaje terracotta figurines date back to 800–700 BC.

Prof Murugeshi thanked II BA students Shreyas Manipal, Gowtham Belman, Shreyas Bantakal, Ravindra Kushwa, Prathijna and Akshatha and III BA student Karthik, for assisting him in the excavations.
Courtesy: Deccan Herald
Write Comment
|

E-Mail
|

Facebook
|
Twitter
|

Print