Udupi: 18 books to be released, 27 troupes to perform at Yakshagana Sammelana
Mangalore Today News Network
Udupi, Feb 07, 2023: In all, 18 books on Yakshagana will be released and 27 troupes will perform Yakshagana in the first State-level integrated Yakshagana Sammelana sponsored and organised by the government for two days in Udupi from February 11, according to the working president of the reception committee G.L. Hegde.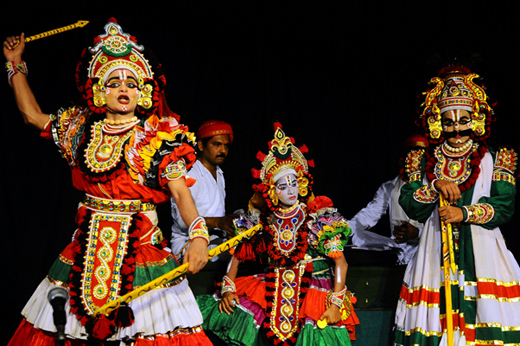 Addressing presspersons here on Monday, Mr. Hegde said that the performances will include two Talamaddale, two Gombeyata, Ghattadakore, Kelike, and Moodalapaya and shows of Tenku Thittu and Badagu Thittu schools of Yakshagana.

He said that there will be an exhibition of portraits of 200 artistes who are no more, with an introduction on them. As many as 75 artistes will be felicitated on Sunday. Different idols of "Natya Ganapathi" will be displayed in the "chowki" (green room).

Mr. Hegde said that there will be six sessions in which 18 persons will speak and 150 special invitees will attend those sessions with others.

He said that two stages named after veteran artistes of yesteryears late Malpe Shankaranarayana Samaga and late Alike Ramayya Rai will be devoted to perform Yakshagana starting from Saturday afternoon till Sunday night.

There will be two all night Yakshagana performances on February 11. Artistes of Badagu Thittu school of Yakshagana will perform 'Rani Shashiprabha, Veera Vrushasena and Rukmavathi Kalyana' prasanga and artistes of Tenk Thittu school will stage Dashavatara from Saturday night till Sunday morning.

There will be an interaction with Mr. Joshi on Saturday from 6 p.m. to 7.30 p.m. in which artiste Vasudeva Ranga Bhatta will interact with the president.

The sessions will be held on the third stage named after doyen of Yakshagana late Keremane Shivarama Hegde. Some of the session themes will include challenges before Yakshagana education, Kannada and Yakshagana, Indian thoughts and Yakshagana, Women in Yakshagana, experiments in Yakshagana and the structure of Moodalapaya.

Among the performances will also include at Tulu Yaksahgana Kallurti-Kalkuka on Saturday at 3 p.m. and a Yakshagana ballet Panchavati on February 11 at 8.30 p.m.

The State government has released Rs. Two crores to the sammelana, Mr. Hegde said.

The forenoon on Saturday has been reserved for the inauguration of the sammelana at 10.30 a.m. by the Chief Minister Basavaraj Bommai. Minister for Kannada and Culture V. Sunil Kumar will participate in it. The Jnanapith awardee Chandrashekara Kambara will deliver the key note address. Scholar and senior Talamaddale 'arthadari' (orator or interpretor ) M. Prabhakara Joshi will be the president of the sammelana to be held at MGM College grounds.

Selfie point, facial make-up

There will be a selfie point at the venue of the two-day Yakshagana Sammelana to be held in MGM College grounds in Udupi from February 11.

Visitors can get the facial make-up done at the venue and take selfies. Going further if one wants to wear the costume of Yakshagana with the facial make up it is also available. Both will be paid services.

There will be an exhibition of music instruments, costumes and other materials used in Yakshagana, according to G. L. Hegde, Working President of the reception committee.
Courtesy: The Hindu
Write Comment
|

E-Mail
|

Facebook
|
Twitter
|

Print