Rampant drug abuse among Medical students exposed in Mangaluru
Mangalore Today News Network
By Dr. G. Shreekumar Menon

Mangaluru, January 23, 2023: The educational hub of Mangaluru, comprising of five universities, seven medical colleges, and over a dozen engineering colleges, apart from innumerable arts and science colleges got a rude shock on January 11th to learn that 9 medicos including a medical doctor and a surgeon were arrested on charges of consuming and peddling Cannabis.The student population of Mangaluru is estimated to be more than fifty thousand in number, and they come from all over India. Anxious parents across India and abroad read with disbelief that students of medicine and practitioners of medicine had degenerated into becoming drug peddlers. The question uppermost in the minds of everybody now is how many more are entrapped in the drugs quagmire?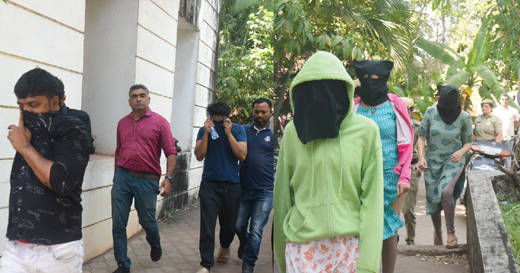 Drug dependency can be seen in all occupations, educational levels, and socioeconomic classes, and it is the most prevalent of psychiatric disorders worldwide. It is one of the four crises of the 21st century that threatens public health, political and economic stability and social structures of many countries. In developing countries, due to the young population, addiction is one of the major problems encountered.

There are hardly any studies or survey undertaken in Mangaluru, to assess the drug problem among the student population. Hence, an authoritative assertion of the extant of drug-abuse in the city, among students, is not possible. However, from the several seizures effected by the Police and other agencies, an approximate assessment can be attempted. Students are reticent to divulge any details, management of educational institutions are more tight-lipped about the problem. The reluctance of the managements stems from their fear of being labelled as a 'drug affected institution', and the aftermath, which could be reduced admissions and even avoiding seeking admission in that institution.Reduced admissions mean financial turnovers will be hit in a highly competitive environment.

As far as medical students are concerned, the perspective is different. Medical studies is a highly prestigious career for students and their families. There are high hopes of academic excellence, career aspirations and success.

While some risk factors for medical students are similar to that of the general population, medical students have distinct stressors and predispositions for drug abuse. However, data regarding the prevalence of medical student substance abuse is very sparse, and there are absolutely no studies whatsoever in Mangalore or even in India as a whole. Hence only some generalizations can be presumed. The stress involved in medical training and providing medical care to patients results in extreme educational and professional demands on students and doctors, which has to be managed on a daily basis. Hence high rates of burnout among medical students and physicians.Medical education is inevitably a time of stress, with long hours, lack of sleep, and a tendency towards unhealthy diets and hardly any physical exercise. However, a poor diet, sleep deprivation, and a sedentary lifestyle are also some of the many reasons that can tempt youngsters to indulge in substance abuse.

Many medical students are goal-driven, andassertive, personalities. They tend to put a high degree of pressure on themselves to achieve their academic and professional goals. This pressure, however, is considered to be a potential risk factor and can lead to an inclination for substance abuse.This stress can alsocause a burnout which can end up in seeking relief and solace in drugs.

The easy availability of alcohol, marijuana, psychedelic drugs, tranquilizers, and opioids, is an irresistible temptation for many to experiment with. Misuse of medications may begin as self-treatment with drugs,and may also involve diversion of controlled medications from patients.

Within practicing physicians, select specialties have significantly higher rates of abuse than others. For example, anesthesiologists most commonly abuse opioids due to their relative ease of access in the operating room, whereas most other physicians have to depend on other kinds of drugs like sleeping pills and cough syrups. Other examples of abuse patterns in physicians include psychiatrists and emergency physicians abusing benzodiazepines and marijuana, respectively.

Although impaired physicians and medical students have the capability to conceal their abuse of drugs, common signs of drug addiction include changes in diet or appearance, anxiety, defensiveness or otherwise disruptive behavior, distress, and depression. Another, major change in behavior includes inaccessibility and withdrawal from social settings with colleagues or preferred solitude.

To tackle drug-abuse among medical students, what is immediately needed isimpartingeducation about the effects that substance abuse disorders can have not only on their minds and bodies but on their academic success and future careers. The responsibility of each medical student to report even suspected abuse in a classmate and also on recognizing the signs and symptoms of this disorder are also necessary. This education combined with classes on self-care and coping with stress can be helpful for students, and alleviate any drug-abuse on campus.

The magnitude of drug abuse in medical students, in India, has not been studiedscientifically.Acomprehensive study of medical student drug abuse is needed to provide a better understanding of drug abuse among medical students which will lead to improved education, awareness, prevention, and treatment. Despite serious medico-legal, ethical and political ramifications, there is hardly any study or survey on the subject. Detailed research is needed to study nationwide patterns of substance use among medical students, and to identify important determinants and reinforce protective factors. Strategies need to be developed for supporting students with a substance use problem.

Perhaps the most strident challenge facing medical colleges, however, is that of destigmatizing substance abuse and truly treating it as a disease rather than as a character flaw of psychological weakness. It is this stigma that is often the most stringent barrier between the student and the resources that are available to get them the help they need.

In short, although inadequate research has been done on the subject, what existing media reports have indicated is that substance use among medical students may be more widespread than was recognized in the past. This has implications for the safety of the student as well as the patients that he or she would be treating, and ultimately for the integrity of the medical colleges themselves. However, as more colleges come to grips with this problem, more programs and resources should become available to ensure that currently graduating doctors are free from substance abuse disorders.

The kneejerk reaction of the institution in suspending the students does not absolve them of their responsibility to ensure the safety, security and wellbeing of the students, entrusted to their tutelage. Such high-fee extorting institutions need to answer as to what actions and safeguards have been put in place for safeguarding the physical, mental, and wellbeing of the students entrusted to their charge. The Vice Chancellor, Registrar, Dean, Student Welfare Officer and the Management, need to be made answerable for total abdication of their duties and responsibilities.Legally, morally and ethically, they need to be questioned and brought to book for their collective and individual lapses.

The present Police action only on some medical students and doctors, apart from being highly selective, could have also been done, maintaining confidentiality and privacy. The sensational publicity unleashed can have severe repercussions for Mangalore – the city of universities, and the city of the young. Many pioneers in the field of education have built up this city of universities, with their sweat, blood and tears. It is easy to besmirch their hard toil and entrepreneurship, just because some misguided youths have gone astray. Every agency has to act with restraint, maturity and foresight.

What is immediately needed is for the Karnataka government to order a confidential online survey of all students undergoing medical and allied health programs like dentistry, nursing, pharmacy and physiotherapy, to ascertain the gravity of the problem, and thereafter with the help of experts draw up an action plan for an anti-narcotics strategy. Thereafter, the same exercise has to be conducted for all the students pursuing different programs.The Karnataka Departments of education, health, home andyouth empowerment and sports, should also be stakeholders in this exercise.

In the education map of India, Mangalore, has a pre-eminent place of honour and distinction. All citizens of Mangalore, every educational institution, every agency, every student, has a solemn duty to uphold this legacy, as also to contribute their efforts to take this great city to still more glorious heights.

---

Dr. G. Shreekumar Menon IRS (Rtd) Ph.D: Former Director General of National Academy of Customs Indirect Taxes and Narcotics & Multi-Disciplinary School Of Economic Intelligence India; Fellow, James Martin Centre For Non Proliferation Studies, USA; Fellow, Centre for International Trade & Security, University of Georgia, USA; Public Administration, Maxwell School of Public Administration, Syracuse University, U.S.A.; AOTS Scholar, Japan. He can be contacted at shreemenon48@gmail.com
Write Comment
|

E-Mail
|

Facebook
|
Twitter
|

Print