Ramakrishna Mission Workshop on Swacch Abhiyan in Karnataka towns
Mangalore Today News Network
Mangaluru, May 28,2017: Readers of the website and Magazine are well aware that Ramakrishna Mission Mangalore is within sight of completing 400 'Swacch Mangaluru Abhiyan' ; for the last 30 months, on special request from the Govt. Of India, it has been taking forward this initiative. Nearly 60 groups in different parts of Mangalore and periphery are actively involved in the cleanliness drive and have been successful in creating an awareness about hygiene and cleanliness among the public.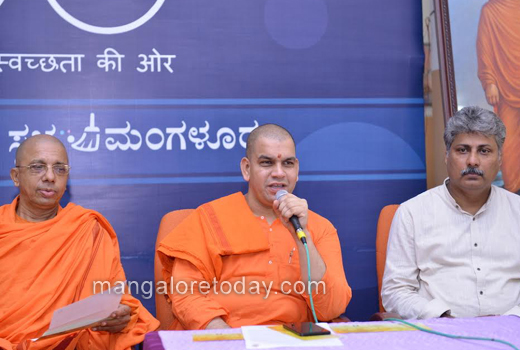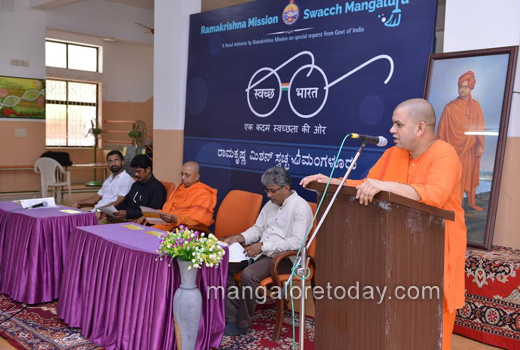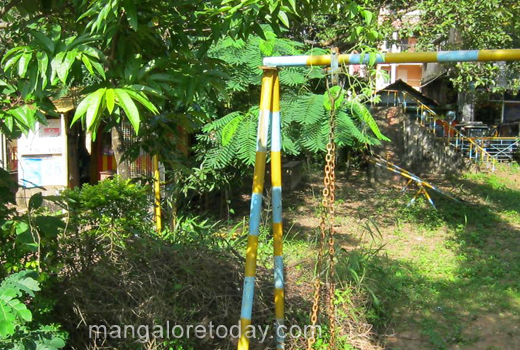 A media meet was held on May 26, Friday to highlight that on May28, 2017, Sunday will see the completion of 400 cleaning drives over the last 30 months. This very motivating Swacch Mangaluru Abhiyan is also in the process of being replicated in several other parts of the state like Puttur, Bantwala, Sringeri, Kalladka, Mysore etc. This substantially proves awareness is rapidly spreading in a positive manner. To expand the scope of this initiative and to reach out to more and more people with the message of awareness, Mangaluru Ashram is planning to initiate cleanliness drives in rural areas too. To initiate wider effective plans on a wider scale, the Village Panchayat officials and PDOs have been invited for a special workshop on May 28 2017, tomorrow. Representatives from more than 200 Village Panchayats of Dakshina Kannada and Udupi, Village Panchayats along with PDOs and elected representatives will be taking part in the workshop.

May 28 - workshop : This workshop will be inaugurated by Sri H K Patil, Hon. Minister for Rural Development and Panchayat Raj, Govt. of Karnataka. Sri Kumar H, MD, MRPL and Dr. Manjunath Bhandary, Chairman, Sahyadri Group of Institutions will be guests.

Several resource persons will address the delegates. Swami Ekagamyanandaji of Ramakrishna Math will be addressing them on the topic, "Swacch Mangaluru – A Novel Initiative" , MLC Captain Ganesh Karnik will be speaking on the topic, "Swacch Manas – Swacch Bharatha", Sri Kota Srinivasa Pujari will be delivering address on the topic, "Swacch Grama, novel dream"; Dr. M R Ravi, CEO, DK Zilla Panchayat will be addressing the topic, "Cleanliness as virtue".

It was further informed that concluding programme of the 3 rd phase of Swacch Mangaluru Abhiyan is set to be held on June 11, 2017. Srimat Swami Gautamanandaji Maharaj, Vice President of Ramakrishna Math and Mission will preside over the function. Sri Ananthakumar, Hon. Minister for Parliamentary Affairs is expected to be the chief guest.

'Arise Awake Park' to materialise : For near 20 years a children's park on Jail Road, in front of Pawan Apartments, next to Subramanya Sadana in Karangalpady has been in an abandoned state. Local residents finally requested Ramakrishna Mission to take initiative in renovating the park for public use. The matter was legally pursued and renovation work is well under way. For the first time in Mangalore the park will be having a 200 feet long, 8 ft broad 'Acupressure track' for walking. Apart from this, flowering plants will be planted and seats for the elders, fountain will be considered as per need and demand. This is set to be completed and inaugurated on June 11, 2017.

Our readers will recall this misused park projected in 'Mangalore Today', and media, since a few years. An aware former resident of the area, said that a social worker Ms. Suares, who lived here since the 1950s (who is now 90 living in an institution); had set up this park in the late 1970s and a Lions ladies group had contributed to it's facilities. Since many years now it has been neglected (see picture) and had even become a base for undesirable activities. This has been pointed out by Pawan Residents too in their request. It is indeed a laudable effort by the Swacch Mangaluru Abhiyan' to have taken this matter in hand.

Swami Jitakamanandaji, President of Ramakrishna Math, Swami Ekagamyanandaji, Convener of Swacch Mangaluru Abhiyan, Sri Prakash Salian, Corporator, Sri Umanath Kotekar and Sri Dilraj Alva were present at the Press meet to brief the media about the future plans and details of the workshop.


Write Comment
|

E-Mail
|

Facebook
|
Twitter
|

Print