Paddy cultivation declines in Udupi district
Mangalore Today Network
Udupi: August 20, 2015: Although paddy is the main agricultural crop and boiled rice, the staple diet of Udupi district, the land under paddy cultivation has been reducing over the years.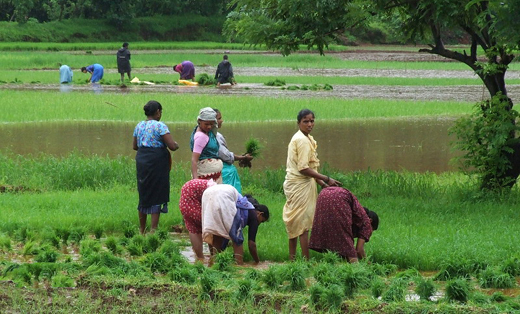 According to the Department of Agriculture, paddy was being cultivated in 69,594 hectares (ha) in Udupi district in 1998-99. It came down to 62,290 ha in 2004-05. It slipped to 57,509 ha in 2009-10. It was cultivated in 49,548 ha in 2014-15. Paddy cultivation had declined by 20,046 ha in the district in the last 17 years.

Scattered and small land holdings, high input costs, labour problem, lack of remunerative prices, absentee landlordism and attack by wild animals are responsible for decline in paddy cultivation in the district.

The farmers in the district are now mostly dependent on farm workers coming from other districts.

Bhujanga Poojary, a farmer in Perdoor village, who used to cultivate paddy in 12.5 acres of land 20 years ago, now cultivates it only in two acres. "Paddy cultivation is difficult as it requires 20 farm workers for transplanting and harvesting work. We have to pay a minimum of Rs. 500 per day per worker. Still, we do not get workers," he said.

This year, the government has announced a minimum support price (MSP) of Rs. 1,410 per quintal of paddy. "This MSP is simply not enough as the labour cost is too high," Mr. Poojary said.

The farmers have not taken the crop to paddy procurement centres because of delayed payments. The middlemen go right to the doorsteps of the farmers and collect the paddy, while farmers have to bring it to the centres. "The middlemen pay them on the spot, but the farmers have to wait for a few days to get MSP," said Anthony Maria Immanuel, Joint Director for Agriculture.

Ramakrishna Sharma, who cultivates paddy in two acres in Bantakal village, said that cost of production per kg of paddy was Rs. 25. "The MSP of Rs. 14 per kg is just not enough. Scattered land holdings increase input costs significantly. The farm workers coming from other districts are not skilled," he said.

In some places wild animals such as bison, deer, wild boars and peacocks attack paddy fields adding to the woes of the farmers.
Write Comment
|

E-Mail
|

Facebook
|
Twitter
|

Print