Buffalo Bulls are not anatomically designed to run: High Court on Kambala
Mangalore Today News Network
Bengaluru, July 28, 2016: Today, the bench consisting of Honourable Chief Justice Subhro Kamal Mukherjee and Honourable Justice Ravi Malimath, while hearing a Public Interest Litigation filed by People for the Ethical Treatment of Animals (PETA) India seeking an end to the use of buffalo bulls in Kambala events, observed that, prima facie, the contention of PETA India that bulls are not anatomically designed to run races holds true and that the 7th May 2014 Supreme Court judgement banning jallikattu and bullock cart races appears to govern all similar practices in the country, as has been upheld by the Kerala High Court, the Bombay High Court, and the Rajasthan High Court. Given the ongoing proceedings pertaining to jallikattu and related matters before the Honourable Supreme Court, the bench stated that it would be prudent to await any orders that may be passed concerning those matters and has, accordingly, adjourned the case until September 6, 2016.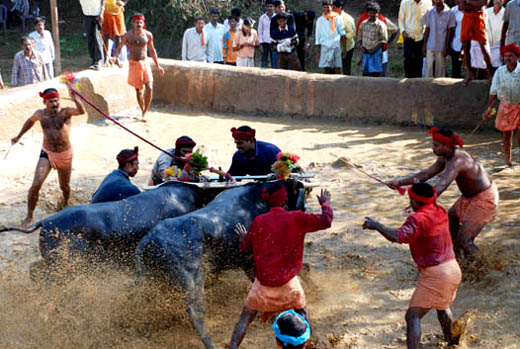 "Buffalo bulls are forced to run in Kambala events through the infliction of fear and pain. India's Supreme Court has already confirmed that such events are inherently cruel", says PETA India Director of Veterinary Affairs Dr Manilal Valliyate. "PETA will continue the fight to protect bulls from abuse, and we are hopeful that justice for these animals will be served, as events involving cruelty to animals have no place in civilised society."

In 2014, the Supreme Court acknowledged that bulls are not anatomically suited for races or similar activities. Making them participate subjects them to unnecessary pain and suffering, so such events were prohibited. The court also stated that when culture and tradition are at variance with the law enacted by Parliament that the law should take precedence.

The 2014–15 Animal Welfare Board of India inspection reports on Kambala events, which include photographic evidence, show different forms of cruelty being inflicted on these animals, such as verbal and physical abuse, including shouting, striking with hands, slapping on the face, violent pulling of thick nose ropes (in some cases, two or three nose ropes inserted through the same hole in the nasal septum), rough handling by pushing and pulling animals, overpowering, tail pulling, and restricting the movements of the head using a wooden pole tied to the horns of both animals. Many of the buffalo who finished the race frothed at the mouth, salivated heavily, and displayed increased respiration rates, proving that buffalo are anatomically unfit for running in races.

PETA India – whose motto reads, in part, that "animals are not ours to use for entertainment" – has long campaigned against the use of bulls in performances.
Write Comment
|

E-Mail
|

Facebook
|
Twitter
|

Print