'Sabarimala verdict upholds constitutional morality'
Mangalore Today News Network
Mangaluru, Dec 18, 2018: Delivering the 'B V Kakkillaya Inspired Orations 2018' organised by Hosatu, Bengaluru, M S Krishnan Memorial Trust, Bengaluru and Samadarshi Vedike, Mangaluru at Ravindra Kala Bhavan in University College, Mangaluru on December 17, Monday; Supreme Court lawyer and former additional solicitor general of India, Indira Jaising said Supreme Court of India has clearly said that the judgement on Sabarimala case is purely based on constitutional morality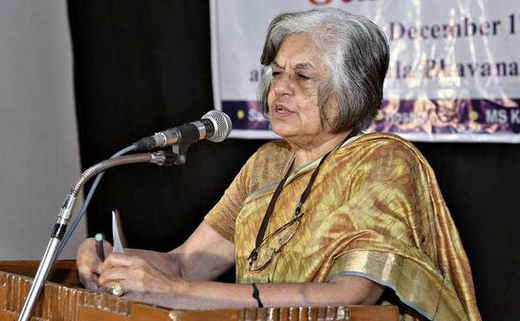 Indira Jaising said she was part of the court room which heard the Sabarimala case and pointed out that the issue of Sabarimala case was based on constitutional rights of women.

"The highest court has also considered the point that the discrimination against menstruating women amounts to accountability. The Supreme Court noted the Devaswom Board's argument that women were seductive elements harming the celibacy of the presiding deity as stereotypical," the former additional solicitor general of India said.

Speaking on the taboo surrounding menstruation and on menstruating women in Indian society, she said that almost all religious texts have discrimination against menstruating women.

Stating that the Supreme Court has been batting for constitutional morality in legislature, executive and judiciary, she said that true gender justice is giving agency to women to exercise their liberty.

"The true liberation is to enable women to earn a livelihood of their choice and to be economically empowered. In India, gender is a sociological construct and patriarchy and misogyny have become the elements in deciding the role of women in society."

Despite the Supreme Court's direction to the central government to prevent vigilantism on women, the atrocities on women, especially, domestic violence, are on rise, she noted.

"According to the latest survey by the UN, most of the women deaths in 2017, were due to domestic violence. Right wing ideology which confines women to homes, has been encouraging domestic violence," she said.

Jaising said,"The present government has not shown any interest in spending the Nirbhaya fund instituted by the earlier government, dedicated to the cause of women and the large amount of the fund remains unspent."

Stating that the 'Beti Bachao - Beti Padhao' programme has failed to prevent female foeticides in Haryana and Punjab, she said, According to the CAG report, the gender indicators have not improved."

However, in a positive development, the ministry of women and child welfare has set up an online portal to register the grievances of women and children, she said.

'No role of govt in Triple talaq' : The central government has been portraying that it has played a decisive role in getting the judgement on triple talaq. In fact, it was the women victims who fought for their rights. Even though the court has said that triple talaq is unconstitutional, the central government is preparing to pass a bill to consider triple talaq as a crime.

"The bill is unlikely to be passed in the Parliament," she said.

Dissent to secularism condemned : Referring to the pub attack in Mangaluru, Indira Jaising said that Karnataka has witnessed extreme violence against women. Condemning the murder of journalist Gauri Lankesh, she said the dissent to secularism is simply unacceptable.
Write Comment
|

E-Mail
|

Facebook
|
Twitter
|

Print