Man throws acid on wife at Coimbatore court complex
Mangalore Today News Network
Coimbatore, Mar 23, 2023: Tension prevailed at the Combined Court Complex in Coimbatore on Thursday, March 23, 2023, after a 40-year-old man flung acid on his 35-year-old wife as she was sitting in the waiting area of a court hall.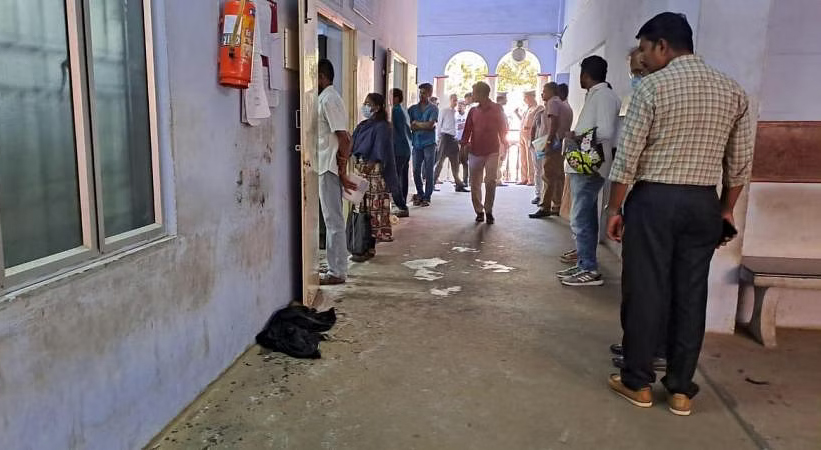 While the woman, who suffered severe burns, was swiftly shifted to the Coimbatore Medical College Hospital (CMCH) for treatment, the man was apprehended by the police and lawyers who were present on the campus. A woman lawyer was also taken to the hospital after the acid splashes fell on her dress.
The police said that a 35-year-old woman was attacked with the corrosive substance by her husband, identified as P. Siva, 40, a resident of Mahalakshmi Nagar at Kannampalayam near Sulur.

According to the police, the incident happened around 10:45 a.m. in the waiting area of the First Judicial Magistrate Court. The woman, an accused in a theft case registered by the R.S. Puram police in Coimbatore in 2016, had come to the court for trial proceedings. As a witness in the case had not come, the woman was asked to wait outside the court hall. Siva came to the waiting area with acid in a water bottle and threw the substance on his wife.

A court staff said the woman cried aloud in pain as the corrosive substance fell on her body, below the neck, inflicting severe burn injuries. She ran from her husband and fell near the door of the Second Judicial Magistrate Court. With the upper portion of the woman's dress partially burnt, a lawyer covered her with her gown. She was immediately shifted to the CMCH.

Siva who attempted to escape was caught by the police and lawyers. "I saw him running away. I sought the help of a few police personnel and managed to catch him before he could escape," said M. Indumathi, a head constable attached to the Anamalai police station who was on court duty.

Investigations by the police revealed that Siva and his wife have two children. The woman, who faces two cases of theft, left home a week ago and started living with her Instagram friend Prabhu. Siva, a lorry driver by occupation, was on the lookout for his wife since then.

"Siva received a call from a lawyer that his wife had to appear before court on Thursday. He knew that his wife would come to the court on Thursday," said a police officer.

Deputy Commissioner of Police, Coimbatore north, G. Chandeesh visited the court premises. He said the woman suffered around 80 % of burns and a detailed investigation has been launched.

City Police Commissioner V. Balakrishnan has instructed officials to conduct a meeting with the Coimbatore Bar Association and the court staff to take effective measures to stop similar incidents on the court campus. On February 13, a murder case accused was hacked to death near the court complex by a group of men.

Courtesy: The Hindu