Indian-origin doctor in Bahrain fired from hospital over anti-Palestine tweets
mangaloretoday.com
Bahrain, Oct 20, 2023: An Indian-origin doctor has been terminated from his position at the Royal Bahrain Hospital after allegedly posting anti-Palestine comments on social media amid the ongoing Israel-Hamas conflict.

Dr Sunil Rao posted a series of posts on X (formerly Twitter) on the ongoing war, expressing support for Israel as it wages with the Palestinian terrorist group Hamas in the Gaza Strip. These tweets were brought to the attention of Bahraini authorities by a user on X.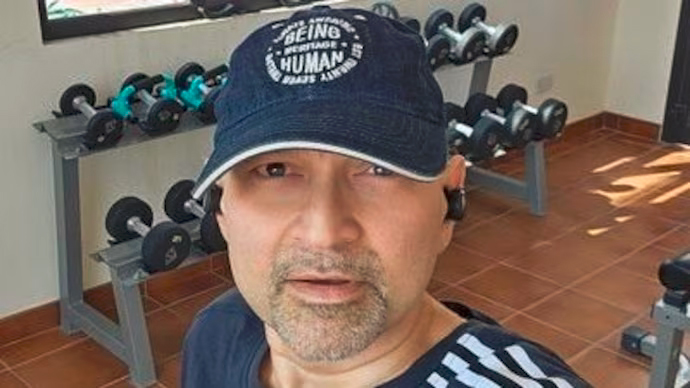 Royal Bahrain Hospital issued a statement on X regarding Dr Rao's actions, stating, "It has come to our attention that Dr Sunil Rao, who is working as a specialist in internal medicine, has posted tweets on social media that are offensive to our society. We would like to confirm that his tweets and ideology are personal and do not reflect the opinion and values of the hospital. This is a violation of our code of conduct, and we have taken the necessary legal actions, and his service has been terminated with immediate effect."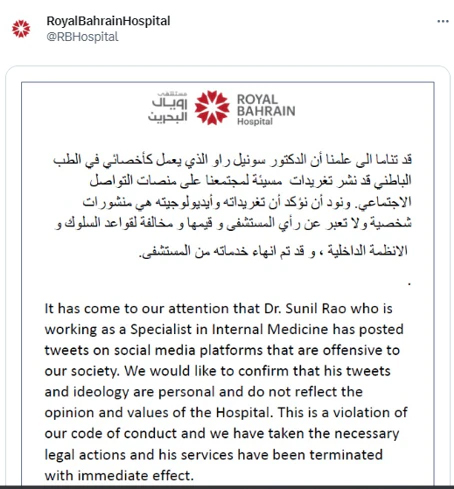 In response to the controversy, Dr Rao issued an apology on X, acknowledging the insensitivity of his statements. He wrote, "I would like to apologize about the statement that I posted on this platform. It was insensitive in the context of the current event. As a doctor, all lives matter. I respect this country, its people, and its religion deeply, as I have been here for the past 10 years."

Additionally, the hospital removed Dr Rao's profile from its website. Dr. Sunil Rao, as per his Twitter profile, is a specialist in internal medicine with approximately 20 years of experience. He is an alumnus of Andhra Medical College in Visakhapatnam and Kasturba Medical College in Mangaluru, Karnataka.

This development comes amid the escalating conflict between Israel and Hamas, which so far has claimed more than 5,000 lives on both sides. The war began following Hamas's surpise attack against Israel on October 7, prompting the latter to initiate a counteroffensive 'Operation Iron Swords'. Israel is now preparing to commence a ground operation in Gaza Strip, with Prime Minister Benjamin Netanyahu earlier mentioning that he will "wipe Hamas off the face of earth".
Courtesy: India Today