British Pharmacological Society collaborates with Gulf Medical University
Mangalore Today News Network
Ajman, May 10, 2023: The British Pharmacological Society (BPS) and Gulf Medical University College of Pharmacy conducted an educational workshop, targeting students and practitioners from all pharmacy disciplines, to strengthen knowledge base and best practices on the future of healthcare systems, medical education, prescription writing skills, prescribing errors, and the BPS Framework of Prescribing Safety Training and Assessment.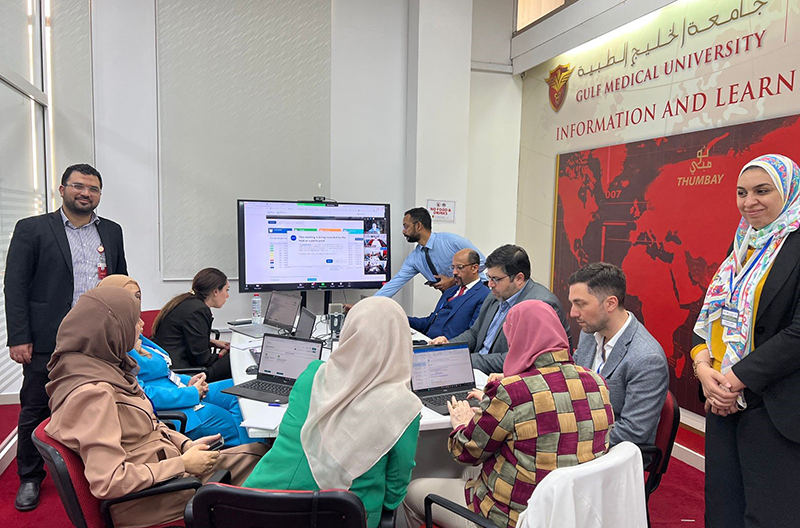 The conference featured full-spectrum presentations from speakers of Gulf Medical University's Colleges of Pharmacy and College of Medicine, and two keynote presentations by the Chancellor Hossam Hamdy and Professor Simon Maxwell of the British Pharmacological Society (BPS). The presentations were followed by a Q&A panel discussion wherein the participants received hands-on training to using the online platform for prescribing skills assessment and navigating through its diverse features.

Prof. Hossam Hamdy delivered the keynote speech on 'Future of Healthcare Systems and Medical Education: Implication to Prescription writing skills'. He explained that Academic Healthcare Systems and innovation will be the norms for future medical education. "The training of students will be in all healthcare related facilities in the community. Entrustable professional activities will be measured more frequently at different points of the students learning trajectory checking their 'Readiness for Practice' in a multidisciplinary team-based practice."

Prof. Hossam Hamdy also stated that research and innovation will be integral to the students' learning experience. "Students should be exposed to how researchers think and behave and be embedded in a research environment." He addressed a gathering of over 100 participants, including faculty from various leading medical colleges in UAE.

Gulf Medical University's faculty from the College of Pharmacy and Medicine shared with the participants important take home messages from their experience with the BPS prescribing skills assessment over the past three years. Vice Chancellor for Quality & Institutional Effectiveness and Dean of gulf Medical University's College of Pharmacy, Dr. Sherief Khalifa commented: "The aim of this workshop is to unite faculty members from colleges of pharmacy across the UAE on the need to integrate prescribing skills in our pharmacy curricula. This is a key initiative that pharmacy academia should take in order to ensure patient safety and advance the pharmacy profession to include independent prescribing for pharmacists".

About Gulf Medical University

Celebrating 24 years of Excellence, Gulf Medical University has grown phenomenally with a vision to be a leading international Academic Health System and a mission to pursue excellence through the integration of health professions education, translational research, quality healthcare, innovation, and social accountability enhanced by national, international partnerships, community engagement, and strengthening its core niche in the health sector.

GMU has over 3000 students from more than 95 different nationalities and offers 29 accredited Undergraduate and Graduate programs run by the 6 constituent colleges in the field medicine, dentistry, pharmacy, nursing, biomedical sciences, healthcare management and economics, anesthesia technology, medical laboratory sciences, physiotherapy, medical imaging sciences and healthcare management and economics. Graduate programs are offered in public health, physical therapy, endodontology, periodontics, clinical pharmacy, drug discovery development, healthcare management and economics, health professions education and medical laboratory sciences.

GMU's Bachelor of Medicine and Bachelor of Surgery (MBBS) Program Outcomes are aligned to the World Federation of Medical Education (WFME) Standards. While the Bachelor of Biomedical Sciences (BBMS) Program is accredited by the Institute of Biomedical Science (IBMS), UK, in addition to receiving approval from American Society for Clinical Pathology International (ASCPi) Board of Certification for licensure under three routes and the universities PharmD Program is certified by Accreditation Council for Pharmacy Education (ACPE), USA. Thumbay group affiliated academic hospitals are JCI accredited, and Laboratories are CAP accredited, signifying high priority to maintenance of quality.

Founded in 1998, GMU is owned and operated by Thumbay Group, the Dubai-based global conglomerate. With the group's network of academic hospitals (Thumbay University Hospital-Al Jurf, and Thumbay Hospital Ajman), multispecialty daycare centers, clinics, pharmacies and diagnostic labs etc., which provide training facilities for its students, GMU is one of the biggest success stories in the private Academic Health Professions Education institution across the Middle Eastern region.