Ajman Ruler Awards 439 Degrees to Health Professionals at 19th GMU Convocation ceremony
Mangalore Today News Network
Ajman, November 30, 2022: Under the patronage of His Highness Sheikh Humaid Bin Rashid Al Nuaimi, Member of the Supreme Council, UAE and Ruler of Ajman, Gulf Medical University (GMU) honored the achievements of 439 graduates at the 19th Convocation Ceremony held on Tuesday, 29th November 2022 at the Thumbay Medicity, Al Jurf, Ajman.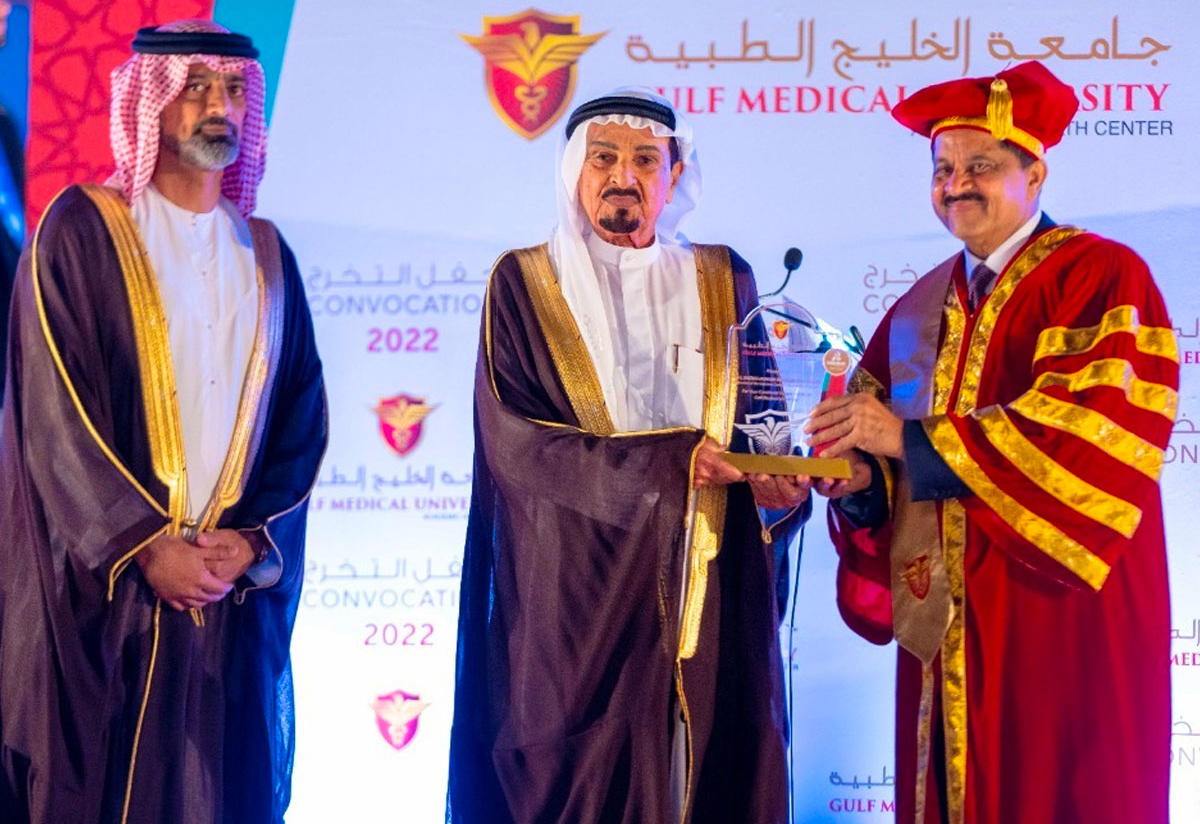 Congratulating the graduates on their distinguished achievement, H.H. Sheikh Humaid Bin Rashid Al Nuaimi, Member of the Supreme Council, UAE and Ruler of Ajman advised them that their learning should continue as it's the only pathway to excel in their careers, and urged them to utilize the knowledge acquired from Gulf Medical University in service of building a better world. Addressing the Emirati graduates, His Highness said that they were a source of honor and inspiration to the country, and promised them continued support.

A total of 439 graduates of the University, 154 from College of Medicine, 68 belonging to College of Dentistry, 42 from the Pharmacy, 125 from the College of Health Sciences, 38 from the College of Nursing and 12 from the College of Healthcare Management and Economics received their graduation certificates this year. The outgoing students belonged to 43 different nationalities.

Dr. Thumbay Moideen, Founder, President Board of Trustees, Gulf Medical University (GMU) thanked H.H. Sheikh Humaid Bin Rashid Al Nuaimi, Ruler of Ajman, for the Government's continuous support to the institution.

Acknowledging the contributions of the academic team headed by the Chancellor, the faculty, administrative staff and other staff of GMU, Dr. Thumbay Moideen, said: "GMU has entered into its 25th year of operations, which is one of the biggest success stories in the history of private health professions education sector in the region. The institution has been unique, a trendsetter and innovative where path-breaking educational initiatives are pursued by students from more than 95 countries, faculty and staff from 50 countries and our hospitals treat patients from over 175 nationalities. Today, Thumbay is among the most-in-demand private medical universities in the region besides being a well-known brand. Our network of Thumbay Academic Hospitals, Clinics, Pharmacies and Laboratories are one among the biggest healthcare providers in the country."

Congratulating the graduates, he assured them of GMU's support always.

The Chancellor of Gulf Medical University, Prof. Hossam Hamdy said, "I would like to congratulate our graduates for their hard work and tenacity and extend my gratitude to their families. Throughout your careers always abide by the values inculcated by GMU and be led by empathy, altruism, conscience, truthfulness, teamwork and fear of God. The university and its hospitals will give priority to its graduates in training and recruitment and will continue to support and take care of you even after graduation."

Affirming the accomplishments of GMU, Dr. Hossam Hamdy presented with some facts and credentials. The number of undergraduate and postgraduate programs has increased from 15 to 27. In addition to the doctorate program, a dual-PhD in 'Precision Medicine' will be awarded by Gulf Medical University and Paris Saclay, the largest of the French universities. The number of students at the university during the next three years is expected to reach to nearly 4000 students.

Establishing its strong foot-hold in field of scientific research, Professor Hossam Hamdy stated, "the university has given it great attention and established international research laboratories that cooperate with a large number of international research centers and work with their counterparts in the UAE, particularly in the area of immunology research for the treatment of cancer and infectious diseases. More than 600 scientific research papers have been published in prestigious international scientific journals in the last three years. The university has also published more than 65 scientific studies in the field of medical education, where it excels both nationally and internationally, making Gulf Medical University the region's first in this field."

Recently, Times Higher Education recognized Gulf Medical University in their latest rankings of top 100-200 of world's 1,400 medical universities.

About Gulf Medical University

Gulf Medical University is celebrating 24 years of Excellence and has grown phenomenally in a span of a last two decades with a vision to be a leading international Academic Health System and a mission to pursue excellence through the integration of health professions education, translational research, quality healthcare, innovation, and social accountability enhanced by national, international partnerships, and community engagement, maintaining their core niche in the health sector.

GMU has over 3000 students from more than 95 different nationalities and offers 29 accredited Undergraduate and Graduate programs run by the 6 constituent colleges in the field medicine, dentistry, pharmacy, nursing, biomedical sciences, healthcare management and economics, anesthesia technology, medical laboratory sciences, physiotherapy, medical imaging sciences and healthcare management and economics. Graduate programs are offered in public health, physical therapy, endodontology, periodontics, clinical pharmacy, drug discovery development, healthcare management and economics, health professions education and medical laboratory sciences.

GMU's Bachelor of Medicine and Bachelor of Surgery (MBBS) Program Outcomes are aligned to the World Federation of Medical Education (WFME) Standards. While the Bachelor of Biomedical Sciences Program is accredited by the Institute of Biomedical Science (IBMS), UK and the university's PharmD Program is certified by Accreditation Council for Pharmacy Education (ACPE), USA. Thumbay group affiliated academic hospitals are JCI accredited, and Laboratories are CAP accredited, signifying high priority to maintenance of quality.

Founded in 1998, GMU is owned and operated by Thumbay Group, the Dubai-based global conglomerate. With the group's network of academic hospitals (Thumbay University Hospital-Al Jurf, and Thumbay Hospital Ajman), multispecialty daycare centers, clinics, pharmacies and diagnostic labs etc., which provide training facilities for its students, GMU is one of the biggest success stories in the private Academic Health Professions Education institution across the Middle Eastern region.