Deepika Padukone's golden swimsuit scene, butt shots censored from 'Besharam Rang' song: Report
Mangalore Today News Network
January 06, 2023: Shah Rukh Khan, Deepika Padukone and John Abraham's Pathaan has been the centre of attention for reasons more than one. In fact, the first track that was released from the film, Besharam Rang, has been under the scanner for several reasons.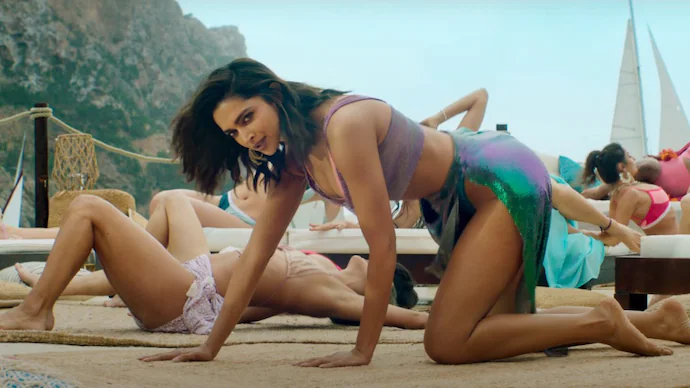 While Deepika's saffron bikini became the talk of the town, reportedly Central Board of Film Certification (CBFC) has suggested cuts in Besharam Rang. As a result, Deepika's golden swimsuit and butt shots have been removed from the film.

DEEPIKA'S BUTT SHOTS REMOVED FROM BESHARAM RANG

Besharam Rang has been embroiled in controversies ever since its release. Now CBFC also suggested an array of cuts in the film before its release. As per a Bollywood Hungama report, three changes were made in Besharam Rang. It includes a close-up butt shot of Deepika, a golden swimsuit pose and certain visuals of her sensuous dance movements during 'bahut tang kiya' have either been removed or curbed. It has been replaced with 'suitable shots' in the film.

The cut list, however, has no mention of the time frame of the censored shots. Also, it isn't clear if the shots of Deepika wearing a saffron swimsuit have been removed. Reportedly, the CBFC has finally granted a censor certificate to Pathaan makers YRF after the edits were made.

CBFC'S REVISIONS FOR PATHAAN

Reportedly, Pathaan received more than 10 cuts, including trimming some of the sensuous moves in the song. Some of the dialogue revisions apparently include Langde Lulle to Toote Foote, Ashok Chakra to Veer Puraskar, ex-KGB with ex-SBU and Mrs Bharatmata with Hamari Bharatmata. However, the song and the outfit remain unchanged. A few revisions to the shots have been advised, but overall, the outfit gets a pass from CBFC.
Courtesy: India Today