Set up food clusters and junctions to allow vendors business
Mangalore Today News Network
Mangaluru, Nov 20, 2014: Speaking to protesters, CITU district unit honourary President Sunil Kumar Bajal alleged that the welfare of street vendors has been seriously neglected and human rights considerations overlooked by MCC.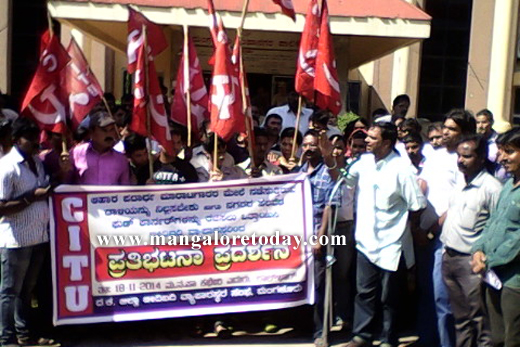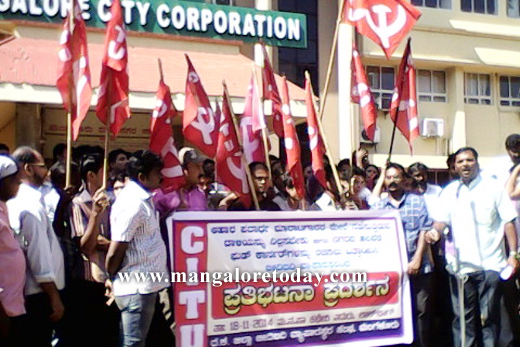 The street food vendors are served notices by the MCC. Opposing raids on street food vendors by Mangalore City Corporation, the Beedhi Badhi Vyaparasthara Sangha under the aegis of CITU, staged a protest in front of MCC on Tuesday and urged to meet various demands including starting food corners at various parts of the city as an alternative arrangement for street food vendors and distribution of identity cards.

The MCC should start food poits to provide food vendors with an alternative arrangement, before serving notices to the vendors for eviction of their stalls. Clear guidelines should be issued by the MCC towards maintaining hygiene and cleanliness at the food stalls on the roadside. But, the MCC has been serving notices to all street food vendors all of a sudden without providing proper guidelines. He alleged that the Mayor and MCC officials are succumbing to builder mafias in the town. Such is the pathetic condition of the administration of MCC that from the last one and a half years, there has been no Commissioner at MCC, Sunil said.

He meanwhile warned that the association members will picket the Mayor's chamber if the demands are not fulfilled.
CITU leader Lingappa Nanthur accused both BJP and Congress of neglecting the interests of street food vendors, during their tenure in MCC. The Central government has passed an act to ensure protection and proper facilities for street vendors. According to a survey conducted by MCC, there are around 1,000 street vendors in the city. But, they have not been provided either with identity cards or with alternative arrangements. Moreover, the MCC officials have been behaving rudely with street vendors, he said.

Lingappa further alleged that the MCC has served notices yesterday to several street food vendors along with chappal repair shop owners. The local administration has failed to repair the bad roads of the town. The funds collected through the tax has not been utilised for public good. There is no cleanliness in the city. Proper water supply is not taken care of, he said and urged for the initiation of stern action against the corrupt officials of MCC. As the Mayor was not present at MCC, the memorandum was submitted to an official concerned. The official said that the matter will be looked into, after the appointment of Commissioner to MCC. The protesters were irked that the Mayor was absent and did not receive their representations and grievances.
Write Comment
|

E-Mail
|

Facebook
|
Twitter
|

Print