Nobel Laureate, Serge Haroche speaks at the plenary session in Sahyadri collage
Mangalore Today News Network
Mangaluru, Jan 08, 2018: Day Two of Sahyadri Conclave Science, Technology & Management Day Two started with the plenary session of Serge Haroche, Nobel Laureate who delivered a technical talk on "Controlling and manipulating single photon in a box- The scientific adventure of lifetime". He discussed stories of his scientific life. He said being a scientist was not a profession but his passion. Between the age of 9 and 12, he was fascinated by various astronomers.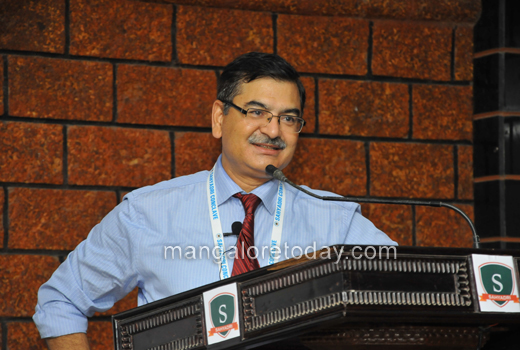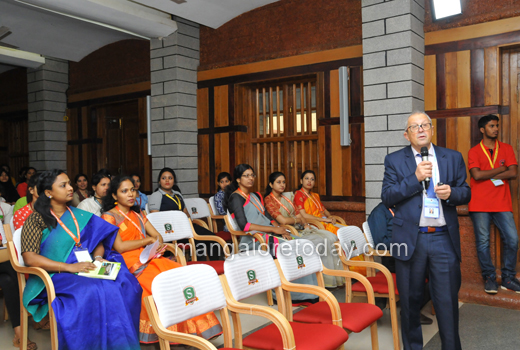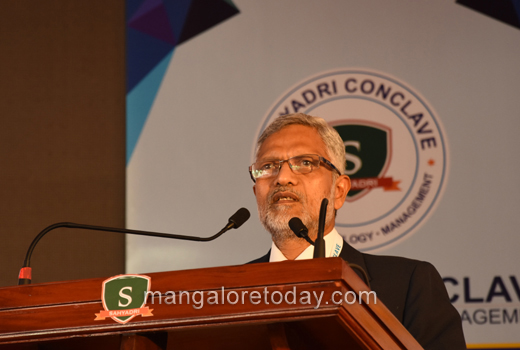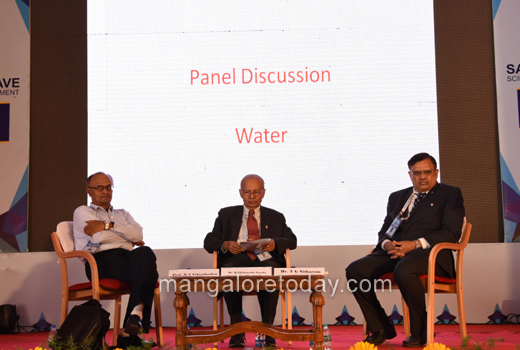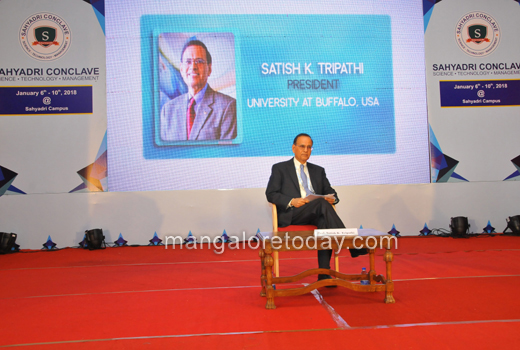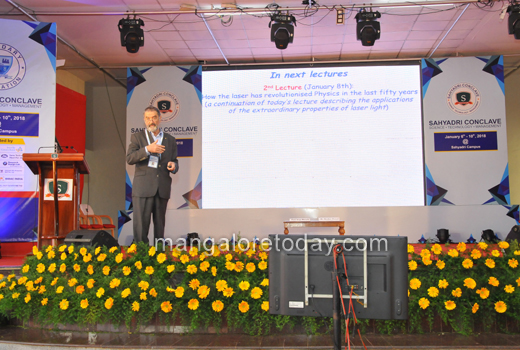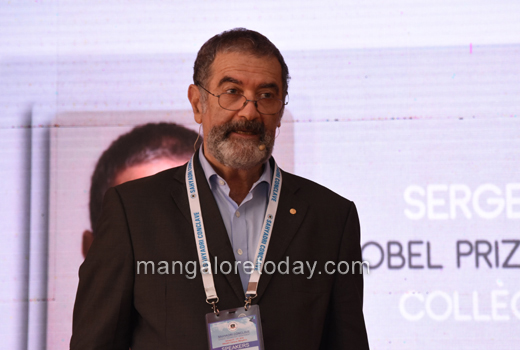 He had immense interest in the field of astronomy and was keen to learn more and discover the laws beholding the same. He also spoke about mutual relationship between atoms and light. He spoke about how classical physics could not solve the puzzle of spectrum of light being emitted from heated bodies and the concept of photoelectric effect.


The second plenary session was facilitated by Prof. Satish K. Tripathi, President, University at Buffalo, USA. He spoke on "Change, Risk and Success – A Personal Story". According to him there are three principles, an individual must inculcate: i) Set long term ambition and be ready for change, ii) Be self-reliant and always be ready to learn from others, iii) Plan strategically and carefully but always be ready to take risk. He was influenced by great faculty who instilled the idea of learning. He stressed on fundamental education and humanity.He emphasised on analytical and mathematical understanding of data using decision making.


Plenary Session Three was facilitated by Vice Admiral N N Kumar, the Executive Director (Production) at BrahMos Aerospace Private Ltd. He delivered a talk on "BRAHMOS – A Journey of Excellence". He spoke about India's first launch vehicle SLV 3 and how successfully it was launched under the leadership of Dr. APJ Abdul Kalam. He also spoke about the five projects which were executed by The Missile Study team. He spoke about classification of Missiles, technologies established and Dr. APJ Abdul Kalam's visionary idea-Seed for joint venture. He presented the various specifications used for deployment of BRAHMOS on SU-30. He concluded his talk by saying that "Weapons are not made to win the war, it is to avoid the war".
Panel Discussion was held on the theme "Water".

The panellists were Prof. T G Sitharam, Chairman of AICTE, South West Regional Office, Prof. M N Vidyashankar, IAS, Former Additional Chief Secretary & Dr. K Chidananda Gowda, Former Vice-Chancellor, Kuvempu University, Shimoga. The panellists stressed that for the sustainability of the planet water is essential. They said - access to clean water is a major challenge and according to the World Bank, every individual requires 135 litres per day to meet their basic requirements. They also discussed the reasons for water scarcity arising from increasing demand from domestic, agricultural and industrial sectors. The probable solutions for water scarcity lies with the inland reservoirs, interlinking of rivers, recharging the ground water, desalination of sea water, utilising flood water before it joins water and rain water harvesting.


Simultaneously, there were technical sessions held in various venues of Sahyadri to address the domain specific participants like Computer Science & Information Science, Electronics & Communication, Mechanical and also Management.
While addressing the Computer Science & Information Science participants, Prof. Joseph Sifakis, Turing Awardi discussed about "Information and Communication Technology (ICT) revolution and impact of Internet of Things (IoT)" in daily life, where he emphasized on construction of a IoT system along with the risk factors. He stressed on the key features about the Technological convergence, the vision and also on the scientific and technical challenges with respect to IoT. He mentioned that currently, IoT is used in many applications to communicate between electronic devices.


Prof. Sathish K Tripathi, President, University at Buffalo, USA spoke on "The New World of Thinking Machines". He discussed about the evolution of Artificial intelligence, techniques and various responsibilities and goals of thinking machines. He also brought out the various uses of Artificial intelligence in daily life. He emphasised that Machine Learning & Deep Learning has proved to give excellent recognition rates for classifications.


Mr. Amar Kumar Pandey facilitated a session on "Smart Cities". He said urban centres like Corporation, Municipalities etc., are the reason for the Smart City mission. Retrofit is a plan where the old things or the existing systems are kept alive along with additional advancement in technology to ensure that common people live happily & healthily. Redevelopment effects can also be seen i.e., instead of retrofit if we need to change the geographic expansion of the existing cities, smart cities are going to be the best where technology is going to be a highlighting one.


Prof. Robert Richardson, Scientific Researcher in Robotics, Leeds University, UK spoke about "Exploration of Robotics". Robots even used in the angle robot, visionary robots, Sense think act cycle robots are the visionary type one. Autonomous robots are the one they decide everything and act according to the situation by ignoring human. Robots in the different field of application are like confined space exploration, flexible camera robots, utility pipe inspection, and pipe climbing, restricted access motional type. Challenges in the field of robotics are complexity, miniaturisation, 3D integration, minimal assembly.


While addressing the Electronics & Communication participants, Dr. Anish Arora, Professor, Ohio University, USA spoke on "Social Sensing Services for Smart Communities". He said that the requirement for protecting the endangered species is to detect the movement and to analyze whether it is animal or human. The next step is to send to base station and alert the guard. The sensors used in the forest are radar with 20k mah battery which lasts for 3 weeks. The sensor is placed in the bushes, these sensors are connected to relays and in turn it is connect to base station. The area where smart services can be used are smart street lights, common payment system , mobility assistance, pedestrian collision avoidance, multi model trips then traffic control.


Dr. Kavi Mahesh, Director, Indian Institute of Information Technology, Dharwad spoke on "Understanding Rainfall in India through Data Analytics". He said that data is the arrangement of known symbols which we can understand and the arrangements must also be known. Data existed before computers. Computer never understood the data, human beings tried to understand data through computers after they got invented. Data can be always collected, analyzed and managed. Data is differentiated as structured, unstructured and semi structured. The data science is all about doing repeated experiments, getting the data, going through the data and finding a scientific solution. He concluded the session by stating the importance of data sciences - less investment, easy to implement and effective.


While addressing the Management participants, Mr. Sandeep S P, HR Lead for Engineering, Technology and SCM Centre Rolls Royce India, Bengaluru, in his first session on "Fortifying HR for future" mainly focused on the insights into trends in Business and its implications on HR. He beckoned the students to upskill their current knowledge in the area of HR and also work on their competencies as it defines their survival in the business. He said that business today is ever evolving and hence HR domain has become complex. Today, while taking any decisions one needs to take a global perspective, understand the Government policy and also the population dividend/leverage.

He also went on to highlight the role of technology and business analytics in the HR Domain. In his second session on "Strategic HR business partnering - insights from a practitioner", he apprised the audience on evolution and application of the three pillar model, effectiveness of the HR business partners, four roles of the HRBP's and the critical roles played by HR. He also spoke on strategic workforce planning and its relevance in the dynamic business world.

Write Comment
|

E-Mail
|

Facebook
|
Twitter
|

Print