Mumbai man performs dangerous stunt with 2 women on bike, case filed, Watch
Mangalore Today News Network / News18
Mumbai, Apr 01, 2023: A video of a dangerous bike stunt performed on the streets of Mumbai prompted action by the city police after the clip went viral on social media.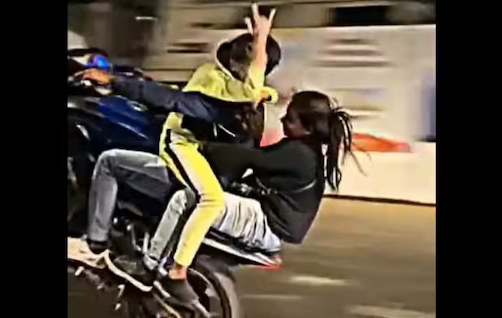 In the video, a man is seen performing a wheele with one girl sitting in front of him and another sitting pillion. The man is seen lifting the front wheels off the road and riding on for several meters.

While the video could be absolutely scary for someone watching it, those on the bike seem thrilled by the stunt they were part of. The women, specifically the one sitting in front of the rider facing the back, appeared to be waving, smiling and even showing off gang signs mid-stunt. Neither of the three passengers had helmets on.

The video was shared by a Twitter page called Pothole Warriors Foundation. A resident named Mushtaq Ansari runs the page and often posts videos on a variety of social issues.

Responding to the clip, Mumbai Traffic Police said, "A case has been registered with BKC Police Station. Investigation into identifying the accused is underway."

The city traffic police also urged people who have any information about those in the video to get in touch with officials directly via Twitter.

In addition to the case against the rider, the two women on the bike with him had also been booked as abettors at the BKC police station, reports the Hindustan Times.

In a similar incident on March 8, a bike with two teenagers fell off from a height of 40 feet from the U-bridge in Bandra resulting in the death of an 18-year-old boy.