Indian family among 8 dead in attempt to enter US from Canada, say cops
Mangalore Today News Network
New Delhi, Apr 01, 2023: Police in Canada recovered the bodies of eight people, including two children, who died trying to cross illegally from Canada into the United States. Among those dead include members of an Indian family who were trying to enter the US from Canada by boat across the St. Lawrence River, reported Reuters. The dead were six adults and two children.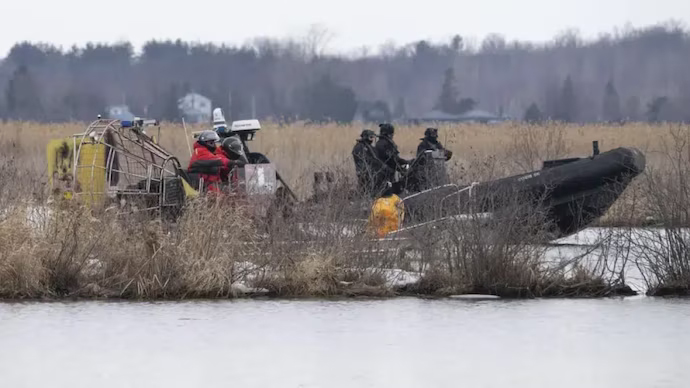 "Two additional bodies have been recovered, one an infant, a Canadian citizen of Romanian descent, and one adult female believed to be an Indian national," Shawn Dulude, chief of the Akwesasne Mohawk Police Service, told Reuters. The bodies were found on Thursday in a marshy area of the St. Lawrence River, which forms the Canada-US border.

Two families from Romania and India are among the dead, reported The BBC. According to police, the first body was found around 17:00 local time (21:00 GMT) in a marsh in Tsi Snaihne in Akwesasne, a Mohawk territory right between the US-Canada border, the report said.

Police recovered six bodies on Thursday and believe the tragedy may have occurred on Wednesday night. A police helicopter spotted the latest two bodies in the water.

"A total of eight bodies have now been recovered from the waters. All are believed to have been attempting illegal entry into the United States from Canada," police told AP.

CHILDREN AMONG THOSE DEAD

One child was under the age of three and had a Canadian passport. The other infant was also a Canadian citizen, a local police chief told reporters at a Friday news conference.

The bodies are believed to be from two families, one of Romanian descent and one of Indian descent, Lee-Ann O'Brien, deputy chief of Akwesasne Mohawk Police Service, told the BBC.

The bodies were discovered after the search for another missing person that also started on Thursday.

'HEARTBREAKING SITUATION'

Reacting to the incident, Canadian Prime Minister Justin Trudeau said, "This is a heartbreaking situation. We need to understand properly what happened, how it happened and do whatever we can to minimize the chances of this ever happening again."

US President Joe Biden and Justin Trudeau agreed last week to stop asylum seekers coming to Canada through unofficial border crossings.

Last year, an Indian family of four froze to death in Canada's province of Manitoba as they were trying to cross into the US.

A Montreal man was also found dead near the US-Canada border in December. Fritznel Richard, 44, was trying to cross into the US to reunite with his wife and child.
Courtesy: India Today