Cops were wedding guests amid 'Love Jihad' protests:Mysuru
Mangalore Today News Network
Mysuru, Apr 18, 2016: MBA graduates Ashitha and Shakeel Ahmed got married at a convention centre in Karnataka's Mysuru today. Present at the Nikaah were their families, friends and a lot of policemen.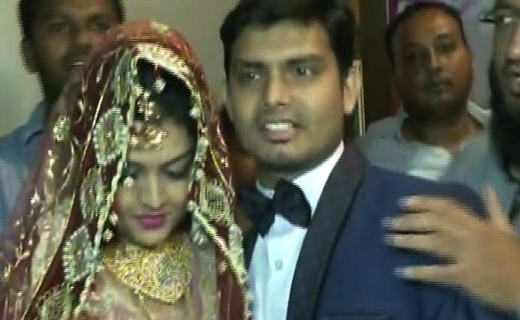 Outside the bride's home in Mandya, right-wing Hindu activists protested against the wedding calling it "love jihad" and alleging that Shakeel, a Muslim man, was forcing Ashitha, who is Hindu, to convert to Islam by marrying her.

"This is love jihad. If it is love we have no objection, but this seems to be forced," said B Suresh, VHP secretary, Karnataka.

The families of the bride and groom have refused to let the protests interfere with their celebrations. "We are all equal in India... that is the message to protesters. They should understand that," said Dr Narendra Babu, Ashitha's father as they drove to the wedding venue.

Shakeel's father Mukhtar Ahmed, a jaggery trader, told NDTV, "This is a happy occasion. What does it matter if 0.01 per cent protest, if everybody else is celebrating?"

Ashitha and Shakeel, both 28, have known each other for years. Their families were neighbours in Mandya before the Ahmeds moved out.

Ashitha and Shakeel were classmates in school and college, finished their MBA together and have been in love for the last 12 years, their families say.

The protests began several days ago even as the two families prepared for the wedding, and the police had arrested two protestors in Mandya earlier this week. The wedding was held today amid high police security.

The couple has found strong support from social activists like writer K S Bhagavan, who attended the wedding. Mr Bhagavan is no stranger to such threats because of his rationalist writings.