GMU Introduces the University of London International Foundation Program
Mangaloretoday.com
Dubai, June 05, 2023: Thumbay Group, UAE's leading provider of medical education and healthcare services with a legacy of 25-years of excellence in services across the region, has forged a groundbreaking partnership with Gems Middle East. This collaboration seeks to empower the realms of healthcare and education by harnessing the collective strengths and expertise of both organizations. With a shared dedication to fostering innovation and achieving remarkable results, this partnership further strives to cultivate a vibrant and influential landscape in these crucial domains of health professions' education.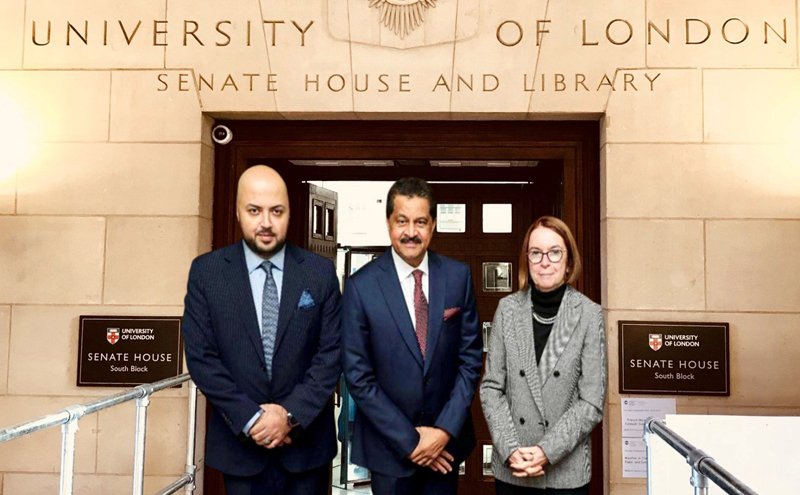 As per the strategic partnership, Thumbay Group's esteemed entity- Gulf Medical University is set to host the University of London International Foundation Program (Medical) with a specialized focus on Medicine within its renowned Thumbay Medicity campus. This comprehensive nine-month program, known as the University of London International Foundation Program(Medical), aims to offer students an exceptional pathway into various undergraduate degree programs, encompassing fields such as Medicine, Dentistry, Veterinary Sciences, Physiotherapy, Nursing, Midwifery, Pharmacy, and Nutrition.

"We are immensely proud to be associated with supporting this exceptional University of London program at Gulf Medical University," stated Prof. Hossam Hamdy, Chancellor of Gulf Medical University. "This not only expands our global presence but also provides students with a remarkable opportunity to gain seamless access to the programs offered by Gulf Medical University."

Acclaimed worldwide for its exceptional teaching standards and rigorous academic curriculum, the University of London's International Foundation Program stands as a beacon of excellence. This program equips students with invaluable skills, serving as a stepping stone towards successful admission into renowned universities around the world. From prestigious institutions in the UAE to esteemed establishments in Europe, Asia, and America, this program helps in unlocking top-tier educational opportunities.
The Foundation Program, which is set to be taught at GMU, provides a distinctive advantage by offering comprehensive preparation for the BMAT and UCAT exams, crucial prerequisites for medical and dental programs in the UK and other nations. Upon successful completion of this tailored program, students will receive a certificate of completion from the University of London and an International A-Level Certification from LRN-UK. Moreover, extensive guidance and support for the UCAT and BMAT exams will be provided.
Lynne Roberts, IFP Director, University of London Worldwide elaborated on the program, stating that the IFP has been designed to ensure that students achieve high academic standards and gain both the skills and intellectual curiosity necessary to succeed at university. "We are proud of our graduates who have gone on to study with University of London programs around the world, as well as on-campus at some of the best universities in the UK and other countries. We look forward to giving students more opportunities through the new GEMS-recognized teaching centers in the Middle East," Roberts explained.

The landmark Medical Foundation Program is scheduled to commence in September 2023, with applications set to open in June 2023. The program welcomes applications from students who currently hold A-levels, International Baccalaureate (IB), or equivalent Grade 12 qualifications.
Meanwhile, expressing his pride in the robust relationship between GEMS Middle East and the University of London, Dr. Amir Saadati, Executive Director of GEMS Middle East, also highlighted the strategic partnership with Thumbay Group. He conveyed his delight in the program being offered at the Gulf Medical University, stating, "We are extremely happy that students can now benefit from enhanced learning and training opportunities."
Dr. Saadati also added that they are currently in talks with several UK-based universities. "The aim of these discussions is to provide students with the chance to study graduate entry medicine after completing the UoL Foundation program and Higher Diploma in Pre-Clinical Sciences (HDPCS) at GMU. This initiative aims to broaden the academic opportunities available to students and enhance their educational journey even further."
Offering remarkable value, the UOL Foundation Program is priced at a competitive USD 6,800 per term. Further convenience is provided through online payment options, visa facilitation to the Emirates, and access to accommodation services, inclusive of free transportation.
Don't miss this unique opportunity, as seats are limited. Interested students are encouraged to apply online at foundation.gmu.ac.ae to secure their place.
The initiative has garnered support from prominent figures within the academic community.
Prof. Richard Grose, Dean for Global Engagement at Queen Mary University London, shared, "It is hugely exciting to see the launch of this new collaborative program that will equip students with all the skills they need to make a successful transition into becoming future healthcare professionals. The synergy that comes from coupling the wonderful facilities at Gulf Medical University with the global academic reputation of UoL will give students a fantastic head start!"
Prof. Paul Coulthard, Dean at the College of Medicine and Dentistry at Queen Mary University London, commented, "I am thrilled with the University of London, GEMS Middle East, and Thumbay relationship, which is set to deliver a novel high-quality portfolio of exceptional educational opportunities in medicine, dentistry, and other health professions."
Dr James Abdey, London School of Economics, stated, "We want students to have a good foundation going into their choice of undergraduate degree. We want them to learn the basics of theory and be able to apply that theory to the real world, but also to have the language, terminology and confidence to be successful. In addition to the subject guides, there are additional resources – videos, news articles, and interesting lectures – so that students can apply what they're learning to real-life cases. For me, that's really exciting!"