4 Indians among 16 killed in Dubai apartment fire
Mangalore Today News Network
Dubai, April 17, 2023: Four Indians, including a couple from Cherur near Vengara in Malappuram district, were among 16 people killed in an apartment fire at Al-Ras in Dubai on Saturday. Officials said on Sunday that nine others were injured in the blaze.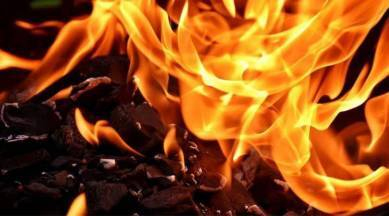 The Indian victims were identified as Rijesh Kalangadan, 38, his wife Jeshi Kandamangalath, 32, Gudu Saliyakoondu, 49, and Imam Kasim Abdul Khader, 43.

The fire broke out on the fourth floor of the five-storey apartment building in the Al-Ras area, one of the oldest residential zones of Dubai. Rijesh and Jeshi died in their apartment reportedly after inhaling smoke.

Dubai's leading Malayali social worker Naseer Vadanappally said that efforts were being made to send home the bodies without delays. Mr. Naseer helped the Indian Consulate in Dubai identify the victims. The two other Indian victims were Tamils. The bodies were kept at Dubai's Qusais morgue.

Kerala Muslim Cultural Centre (KMCC) workers in Dubai helping the victims' families said that the tragedy occurred on Saturday afternoon at a crowded apartment building. Quoting Dubai Police, they said that short circuit was suspected to have been the reason.

A security guard who tried to help the victims also reportedly died in the fire. Apart from the four Indians, the victims included 10 Pakistanis and two Africans.

Rijesh was working in a travel agency in Dubai, and his wife Jeshi was a teacher at Woodlem Park School in Dubai.

Both were reportedly sleeping in their apartment when the fire broke out in an adjoining room. The couple had taken a day off to celebrate Vishu. An English teacher for primary classes, Jeshi had worked at Dubai's Crescent High School for five years. She left Crescent school last month and joined Woodlem Park School in Dubai.

KMCC officials quoting Dubai Police said that lack of proper safety measures had facilitated the tragedy. An investigation was on, they said.

Indian Union Muslim League national general secretary P.K. Kunhalikutty, MLA, visited the house of Rijesh and Jeshi at Cherur near Vengara in Malappuram district on Sunday morning.

Mr. Kunhalikutty said that he woke up to the shocking news and was saddened by the death of the couple, who had been preparing to move in to their new house.

"We spoke to the family and their relatives in Dubai. We are in constant touch with the KMCC volunteers in Dubai, and everything possible is being done to bring home the bodies at the earliest," said Mr. Kunhalikutty.