Picture of fish with bizarre human-like lips and teeth stuns netizens
Mangalore Today News Network
September 02, 2023: There are few things as unexpected and distressing as your food staring at you. Although it seems like a nightmare, it actually happened to a woman in the Philippines. Like any other day, she was getting ready for lunch when she noticed something peculiar. While cooking, she discovered a fish with teeth that uncannily resembled human teeth and appeared to be grinning or smiling. She was completely shocked and slightly alarmed by the experience. The fish's pictures and videos on the internet have amazed others on the internet, while she is still dealing with the shock and strange emotion.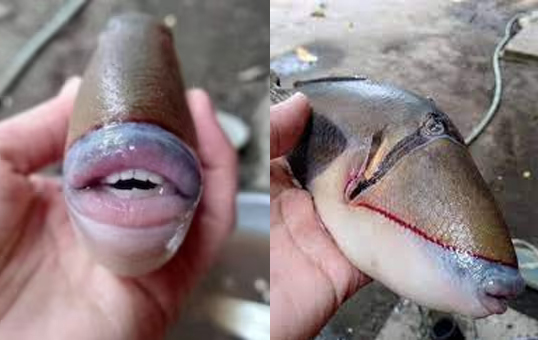 Maria Christina Cusi reportedly bought a variety of fish, totaling roughly one kilogram, from one of Bacolod City's top marketplaces. She made a startling discovery when she got home and started cleaning the fish. Her eyes widened in shock as she prepared to fillet the fish when she noticed that it had teeth that were remarkably similar to human teeth. After spending some time looking at the fish, Cusi eventually throws it away out of fear that the strange animal may endanger the health of her family.

The fish that Cusi had purchased was eventually determined to be a bighead carp, a freshwater fish that can grow up to 60 inches long. Strangely, sets of teeth like the ones Cusi discovered are unusual for these fish, which are occasionally locally referred to as Imelda after the nation's former First Lady.

However, this is not the first time a fish has been discovered with teeth that closely match those of a person. Several species of the South American Pacu family have previously made headlines for having extremely human-like dental characteristics.

A discovery of a specific fish species that was even more creepy went viral about three years ago. People questioned whether the fish with the strange, human-like set of teeth and lips in the images actually existed. According to reports, Malaysia is where the animal was caught.
Write Comment
|

E-Mail
|

Facebook
|
Twitter
|

Print