Adobe's futuristic digital dress changes pattern with the push of a button, Watch
mangaloretoday.com/News18
October 20, 2023: The future of fashion is here. From shopping, and communication to entertainment — everything has been touched by technology. Then why should fashion be left behind? The Adobe Max 2023 event was held recently in Los Angeles. Project Primrose was the event's star attraction. It is a ground-breaking dress that claims to change the fashion industry by bringing dynamic, real-time design transformations. Wearers will be able to alter the style, colour, and pattern of their clothing with only a press of a button or a quick movement, demonstrating a spectacular fusion of technology and style.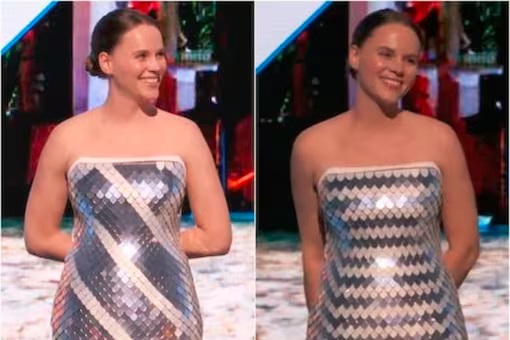 This technology enables the dress to change its colours and patterns in real time by utilising reflecting light-diffuser modules. Project Primrose offers a completely individualised sense of style because it is interactive and responds to wearer motions by altering patterns and animations accordingly. The fashion experience is given a new depth by this element, which makes it more interesting and individualised.
This interactive dress was created by Adobe's research scientist Christine Dierk, which she presented to the world at the Adobe Max 2023 creativity conference. Christine intriguingly demonstrated the technology while wearing a strapless dress that, at first glance, appeared to be an ordinary cocktail dress. However, when a remote button is pressed, the patterns on the dress immediately start to change. The Adobe scientist demonstrated how Primrose's colours can change from light to dark in a split second and stated, "Unlike traditional clothing, which is static, Primrose allows me to refresh my look in a moment."

The Adobe researcher also showed how different patterns could be changed on the dress, from a crisscross design to a variety of stripes, including diamond shapes and chevron-like lines. The unveiling of Project Primrose at Adobe MAX 2023 represents a revolutionary development. It has not only captivated the attention of the fashion business, but it has also created a world of opportunities for technologically advanced innovation and interactive design. With the blurring of the lines between the physical and digital worlds, this innovation represents a huge step forward in the fashion industry.
Write Comment
|

E-Mail
|

Facebook
|
Twitter
|

Print